Finova Is On The Prowl
by
One Thing that he didn't want to do, says Sam Eichenfield, CEO of Finova Group (FNV), was to increase the company's assets and earnings through buyouts. But with the decline in market value last year of many specialty finance companies, Eichenfield has lately embarked on a new strategy: He says he'll pursue large acquisitions to make sure Finova, which provides secured commercial loans to small and midsize companies, can continue to dominate its niche markets.
One New York money manager says Eichenfield is looking at four finance companies as targets, which, if acquired, could double Finova's assets and earnings. The outfits Eichenfield is considering, according to this pro, have annual earnings of at least $40 million apiece.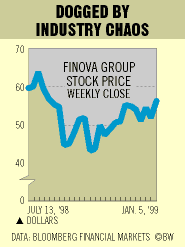 Some analysts rave about Finova: It is "a well-capitalized and collateralized lender with a domestic focus and has an A-rated underleveraged balance sheet," says David Sochol, an analyst at Legg Mason Wood Walker. As such, he adds, Finova can "take advantage of the current market turmoil resulting from the decline in junk-bond issues and initial public offerings, which has hit companies that securitize loans. Prudential Securities' James Thayer is impressed with Finova's "successful conservative strategy during this time of turbulence." He expects Finova to post earnings of $2.85 a share for 1998 and $3.30 in 1999. His 12-month target for the stock, now at 56 a share, is 75.
Before it's here, it's on the Bloomberg Terminal.
LEARN MORE