Czech Republic: Unease, Even After The Easing
by
Government policymakers struggle to lift the Czech Republic out of its severe recession, which showed no signs of ending as 1998 closed.
Real gross domestic product in the third quarter fell 2.9% below its year-ago level. A sharp drawdown in inventories led the decline, but capital and consumer spending also fell. The early data on the fourth quarter are equally dismal. October retail sales and construction outlays were below year-ago levels. And industrial sales were down in both October and November.
In response, the Czech central bank has cut interest rates (chart). Since mid-July the bank has trimmed rates seven times, including a Dec. 22 cut of a full percentage point, bringing the 14-day repurchase rate down to 9.5%. That easing might seem like a godsend, but in fact, inflation has fallen faster than have rates, so real interest rates are higher now than at the start of 1998. Yearly consumer inflation was 13.1% in January, but had slipped to 7.5% in November, and is expected to be 7% in December. That means the real repo rate was 2.5% after the latest cut, up from 1.65% in January, 1998.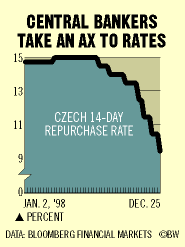 As 1999 began, the central bank hinted that at least one more rate cut is coming, because the government wants lower rates to weaken the koruna, whose climb has tempered the growth of Czech exports. The koruna rose 15% vs. the dollar in 1998, and 7% vs. the German mark in 1998. With Czech goods more expensive globally, real exports in the third quarter grew 8.1% from a year ago, down from a 12.3% gain in the second quarter and a 27.4% surge in the first.
Easier monetary policy, though, may spur a recovery in domestic demand, boosting imports and widening the trade deficit. The current-account deficit probably improved in 1998, to 2.3% of GDP from 6.1% in 1997. The main worry is that a reversal in the deficit could cause a severe and quick weakening in the koruna, as happened in May, 1997. The result back then was a large and unwelcome acceleration in inflation.
Before it's here, it's on the Bloomberg Terminal.
LEARN MORE