Cruising Into The 21st Century?
As Curacao islanders wave in welcome from the shore, thousands of passengers crowd the decks of the cruise liner Rhapsody of the Seas. They gawk at the ancient forts and pastel-colored Dutch colonial houses that line the harbor of Willemstad, the capital of this southern Caribbean island. Some of the 17th century houses are being turned into shops, where tourists will buy Dutch cheeses, china, lace, and liqueur. But more important to the island is the huge $8.5 million terminal being built by the Curacao Ports Authority just outside the harbor. When it opens in March, it will accommodate the world's largest cruise ships.
After two years of recession, and with a jobless rate hovering at 17%, this island desperately hopes the cruise business will help turn around its economy. The ports authority already has spent $10 million upgrading six piers to accommodate up to five vessels. And the new megapier may be just the first, as the booming cruise industry launches more giant ships.
"Our efforts are paying off very well," says Richard Lopez Ramirez, managing director of the ports authority. In 1997, after Curacao began its marketing push, the number of cruise passengers jumped 25%, to 217,000. The number rose an additional 4% in 1998. Next winter, Royal Caribbean International will begin weekly dockings of its 2,350-passenger Majesty of the Seas. Curacao is negotiating for more superships and is teaming with other ports to devise southern Caribbean itineraries. Curacao's goal is 50,000 more passengers in four years.
That would help the economy. A one-day megaship docking means $243,858 in crew and passenger expenditures, and each call creates one full-time local job. The ports authority projects $12 million in additional spending and 50 new jobs in 2001, plus $32 million or more in spending and at least 130 new jobs by 2005--a significant number, since the population is just 152,000.
Tourism-related projects are among the few developments attracting financing in Curacao. For years, Alfredo Berends, who runs the tony Bistro le Clochard in a corner of a 19th-century fortress guarding the harbor, tried to raise money to develop the rest of the fort, with no luck. But in November, he signed a $7 million loan with a consortium of banks led by Aruban Investment Bank to build a retail and entertainment complex inside the fort's thick stone walls. The facility will provide 200 new jobs when it opens in 2000.
SLAVE STOP. Existing businesses are expanding, thanks to cruise money. In 1992, Popi Verboom invested $11,000 in a small souvenir shop stocked with handicrafts, art, and the popular Curacao liqueur, made from bitter orange rind. Business is so good that she has just opened an art gallery in a century-old colonial mansion and a second gift shop. Sales in 1998 were $400,000.
Verboom will benefit from tourists who will visit the $6 million Jacob Gelt Dekker Cultural Center, scheduled to open in April. The center, built by Dutch businessman Jacob Dekker, who made his fortune in one-hour photo shops and rental cars, is located in a derelict neighborhood between Verboom's gallery and the new terminal. A museum in the center will highlight the island's African history. Spain claimed Curacao in 1499, but the Dutch took control in 1634 and turned the island into a shipping point for slaves destined for plantations throughout the Americas. Curacao is the largest island in the Netherlands Antilles, an autonomous part of the Kingdom of the Netherlands.
Dekker hopes to offer ferry service between the cultural center and a new Maritime Museum, across the harbor in the Jewish section. Sephardic Jews came to Curacao as refugees from the Inquisition. Curacao is promoting Jewish heritage tours that include the hemisphere's oldest synagogue, the Jewish Cultural Heritage Museum, and an early Jewish cemetery. Dekker is also sprucing up the cultural center's neighborhood. He has supplied paint so that residents can brighten their faded row houses. The former slum is becoming a tourist draw.
While hoteliers elsewhere view cruise ships as competition, hotel operators here welcome them in hopes that passengers, particularly Americans, will pick Curacao for destination vacations. Hoteliers are behind the push to upgrade shops and open waterfront cafes that are meant to draw cruise passengers. They also lobbied to get the new pier built. It "will be an extremely important asset," stresses Nic Moller, who owns the Avila Beach Hotel, where Queen Beatrix of the Netherlands stays on official state visits.
SETBACKS. Curacao began casting about for economic alternatives as far back as 1985, when Royal Dutch/Shell Group, the island's major employer, closed its outdated oil refinery. Then, changes in U.S. tax regulations made the island's offshore banking less attractive. Tax revenues from this sector dropped from $263 million in 1991 to $79 million in 1998. Local businesses suffered as unions demanded a shorter workweek and tough antidismissal laws. In the past year, some 3,000 Curacaoans moved to Holland for jobs, education, and a cushier welfare system.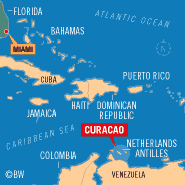 To lure them back and to provide employment for those who remain, the government and private industry are exploring opportunities in electronic commerce, alternative energy production, and data processing.
But industrial development will take time. Meanwhile, says Alfredo Berends, "I cannot afford to be depressed." So he and other entrepreneurs look to the harbor for their future. Standing in front of her art gallery, Popi Verboom scans the waterfront. Her face softens as she watches a cruise ship gliding into port. This harbor, she says, is Curacao's passport to the future.
Before it's here, it's on the Bloomberg Terminal.
LEARN MORE