Closely Watched Trains At Gatx
by
If GATX, a major lessor of railroad cars, doesn't watch out, warns investment manager Ed Wachenheim III, some financial giant may latch on to it. Wachenheim, president of Greenhaven Associates in Purchase, N.Y., thinks that the stock of GATX (GMT), which has dropped to 37, from 47 in mid-July, is way underpriced and worth 65, or 20 times his 1999 earnings estimate of $3.25 a share. At its current price, the stock's price-earnings ratio is only 11.
That's a ridiculously depressed p-e, argues Wachenheim, because GATX earnings are expected to grow by nearly 15% a year. Wachenheim, who has accumulated 1.5 million GATX shares for clients, says he doesn't know for sure that a suitor is looking to buy GATX. "But if the GATX price stays down, the company is likely to attract a large financial company," he adds.
Since banks usually obtain funds at a lower cost than other companies, a bank acquiRing GATX would be able to increase its own earnings very sharply, explains Wachenheim.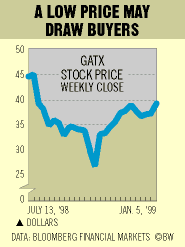 Apart from leasing railroad tank cars, GATX also finances the leasing of other equipment, including airplanes and construction equipment. Wachenheim notes that because of GATX' efficiency and expertise in the business, such major banks as J.P. Morgan and Chase Manhattan Bank have hired GATX to manage their leased equipment. Recently, Swissair and Rolls-Royce also signed contracts for GATX to manage a portfolio of leased airplanes and jet engines.
Donald Zwyer of Salomon Smith Barney, who rates the stock a buy, expects GATX to post 1998 earnings of $2.70 a share and $3.26 for 1999.
Before it's here, it's on the Bloomberg Terminal.
LEARN MORE