Christianity On The Web
by
Make no mistake about it: Internet stocks are only for those with strong stomachs and deep pockets. Didax (AMEN) bolted like lightning within days--from 3 1/4 a share on Nov. 23 to 20 on Nov. 27, hitting 40 by Nov. 30. Now, it's back at 10. But some investors are betting it will make another run--probably back up to the mid-20s, in the view of a San Francisco money manager who has close ties with the company. Didax considers itself the nation's leading Christian network: It has formed a Web site called crosswalk.com that provides information and services--including financial advice, and products such as Christian music, books, and movie guides.
The stock made its first big move when the company launched an online music channel. And when Didax CEO Bill Parker appeared in late November on CNBC to discuss the company's Web site, the stock hit the roof.
Now, says the California money pro, Didax is talking about forging strategic partnerships with Net biggies such as America Online and Amazon.com. He says Didax wants to be the "ultimate source" of everything Christian for its customers. He isn't sure which of the companies Didax will form alliances with, but he expects an announcement will be made soon.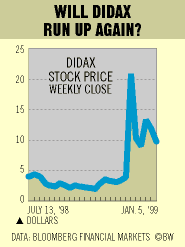 The company, which has yet to turn a profit, generates its revenues from advertising space, memberships in affinity marketing programs, and product sales. In 1998, sales were just about $1 million--and should be three times as much this year, figures the California money manager. In the first nIne months of 1998, Didax posted a loss of $2.2 million.
Parker says that the number of members in crosswalk.com more than tripled, to 147,000, during 1998, while the number of pageviews soared--from 200,000 to 2.2 million.
New services to be added this year, says Parker, are cultural features as well as news reports on sports and the entertainment business. "We intend to get the loyalty of all Christians and drive up our Web-side traffic and membership," he says.
Before it's here, it's on the Bloomberg Terminal.
LEARN MORE