At The Starting Gate: A Channel For Railbirds
Malone and Murdoch want cable viewers betting by autumn
By
If it works, it could be one of the most lucrative TV channels ever. News Corp. Chairman Rupert Murdoch and Tele-Communications Inc. CEO John C. Malone are teaming up to launch a horse-racing cable channel by this fall that will let viewers play the ponies from the comfort of their La-Z-Boys. If more than the eight states that now permit such betting rewrite their laws, Television Games Network (TVG) just might revive a fading sport. And for United Video Satellite Group Inc.--soon to be a joint venture of News Corp. and TCI's Liberty Media Corp.--the new channel could be a financial trifecta: In addition to the dual revenue streams of subscriber fees and advertising that other cable channels enjoy, TVG aims to take a cut of every wager.
KENTUCKY TEST. The idea is simple: The new channel is essentially a variation on telephone gambling that the eight states--Connecticut, Kentucky, Maryland, Nevada, New York, Ohio, Oregon, and Pennsylvania--have already legalized to supplement their off-track betting parlors. Having locked up five-year contracts with 18 top Thoroughbred racing tracks, including Churchill Downs, Belmont Park, and Aqueduct, TVG aims to air 12 hours a day of live races, augmented by jazzy programming produced by another Murdoch and Malone sports joint venture, Fox/Liberty Networks.
Subscribers will be required to maintain deposit accounts--to discourage big impulse bets--and wagers will be laid via telephone, the Internet, or set-top cable box. For Murdoch and Malone, TVG allows them to tap into the rich cash flow of the gaming industry without having to deal with all the pesky regulations. "We're not in the business of taking wagers,"says United Video President Peter C. Boylan III. "That's what our track partners do."
Still, if the experiment TVG has been running since 1995 in the racing heartland of Kentucky is any sign, United Video could hit the jackpot. There, the average amount wagered monthly by 1,200 subscribers has been as much as $1,500 each. TVG charges a $5.95 monthly fee per subscriber, plus 10 cents per wager. On the back end, it has been pocketing a commission of 5.5% on each bet. All this has added up to eye-popping monthly revenue of $80 per home--more than double what most folks pay for their entire cable bill--to be split between United Video and the cable operator.
If just 12% of the homes in the eight states sign on and wager a modest $60 each per month, analyst John H. Corcoran of Stephens Inc. estimates that by 2003, TVG could pump out $60 million in operating profits on revenues of $100 million. That's not to mention the other 42 states, plus the possibility of beaming the races overseas via Murdoch's constellation of satellite broadcasters such as Japan's JSkyB.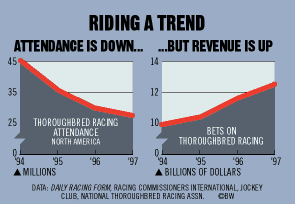 SMALLER RIVALS. Eyeing the potential windfall, United Video spent $30 million last fall to buy out the 80% of TVG it didn't own from its co-founders. Now, the Tulsa company plans to spend $40 million to roll out the service to a market that, from the outset, includes 13 million cable- and satellite-TV subscribers--many of them already TCI customers. Still unclear is how TVG intends to launch alongside existing betting services such as OTB in a notoriously fractious industry. "Their plans are still a little confusing--even to us," says William P. Carnevale, president of New York City Off Track Betting Corp., which handles $935 million in bets a year, 22% of that via telephone.
Nonetheless, TVG bills itself as the potential savior of the sport that TV forgot. Although the amount wagered by Americans is growing, live attendance at races has declined by more than half since 1991. Other small companies are launching similar services linked to TV and the Web, but none has the heft of TVG's owners, who are expected to formalize their partnership next month with the merger of Murdoch's TV Guide into United Video. Can it be long before Fox begins production of World's Scariest Steeplechases?
Before it's here, it's on the Bloomberg Terminal.
LEARN MORE