A New Studio Aims To Lure Hollywood...But Red Tape May Prove Too Scary
Inside a giant soundstage, black-clad Indian stuntmen rehearse fight scenes for a Hindi film on a fantastic, cave-like set. A giant waterfall dominates one corner, a weirdly angled steel staircase glows blue and green. The room is guarded by 15-foot-tall heads--part ancient Egypt, part Easter Island. Such outlandish fantasy is typical of the Bombay-based Hindi film industry, which churns out hundreds of movies every year. But this set was not dreamed up in Bombay. It was created by the Maya--or illusion--department of Ramoji Film City, a new studio outside Hyderabad.
Like Hollywood moguls of yore, Ramoji Rao, a newspaper baron and film producer, has created a self-contained movie world out of a vast, boulder-strewn wasteland. Ramoji Film City boasts four soundstages with two more under construction, state-of-the art processing and printing equipment, and an in-house special-effects department. "Technically, we have left no stone unturned," says Rao, 62. But instead of the "Main Street" and "New York Street" of Hollywood lots, this one replicates India, complete with a mud village, a Bombay slum, a small town, a colonial mansion, railroad stations, a jail, a hospital, a Hindu temple, and a mosque.
LONG SHOT. Rao declines to comment on estimates that he has spent $80 million to $135 million to build Ramoji Film City. But he has open ambitions for the studio to find a place on the world's moviemaking map. While Bombay crews are already trickling in, Rao's real aim is for his studio to become a favorite low-cost location for Hollywood and European producers. That's a long shot. Until now, such producers have only used India for movies like Gandhi, Kama Sutra, and City of Joy--which were all about, well, India. Unlike Eastern Europe or Mexico, India is never thought of as a general location for cheap movie production. But Ramoji Film City executives boast that with an in-house design team, thousands of craftspeople, and plenty of open space, they can recreate any place in the world--from Istanbul to New York--for 30% less than rival East European studios. They've even opened an office in Los Angeles and sent a representative to the Cannes Film Festival. "We can build the Titanic," says veteran set designer Nitish Roy, head of the art department. "We can immediately produce whatever you want."
Those claims are being put to the test. Los Angeles-based B-movie producer Roger Corman recently decided to use Ramoji Film City to make a movie based on an Isaac Asimov science fiction novel, Nightfall, a story set on a planet with seven suns. An Italian crew is also using the studio to shoot scenes of another futuristic saga. Ramoji Film City executives are in serious negotiations for several other projects. "I think it will be a successful gamble," says Corman, who admits he was "truly amazed" by the studio and is already talking it up among other Hollywood producers. Of the popular low-cost film studios, Corman says, "this is better than anything, except maybe Moscow."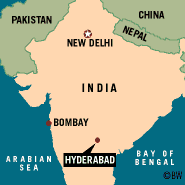 Still, it will be tough to overcome India's Hollywood image problem, which stems from the recent bitter experience of French director Jean-Jacques Annaud. Annaud wanted to film his Seven Years in Tibet in India's remote province of Ladakh. The $70 million production would have been an economic windfall to the region and had the enthusiastic support of local authorities. Indian bureaucrats, who must approve the script of any foreign production, also promised that permission would be granted. But after six months, officials rejected the request. By then, more than $4 million had been spent on location-related preproduction. No explanation was ever offered, though unofficially Annaud heard that Beijing had pressured New Delhi to bar the film, with its unflattering portrayal of Chinese rule in Tibet. "I was very, very disappointed," says the director, who eventually shot the movie in Argentina.
The feisty Rao is undaunted by Hollywood's skepticism. With his close ties to Indian power broker N. Chandrababu Naidu, chief minister of the state of Andhra Pradesh, he is confident that government clearance will not be an issue. "Everything has some obstacle, but they are not insurmountable," he says. With such a can-do attitude, this studio looks set for plenty of action.
Before it's here, it's on the Bloomberg Terminal.
LEARN MORE