Used Nuclear Fuel May Find A Home...And Other Nations May Buy In
Ariane Sains
Artificial smoke billows across the stage as the white curtain slides slowly down to a drumroll from the Oskarshamn Big Band. With Swedish Prime Minister Goran Persson and local politicians looking on, the curtain falls away to reveal a 20-ton copper and steel canister, Sweden's hope for solving the dilemma of what to do with its used nuclear fuel.
We're in the port village of Oskarshamn on Sweden's east coast, where Persson came last Nov. 17 to inaugurate an $18.75 million canister testing station, owned by Swedish Nuclear Fuel & Waste Management Co. (SKB). In the next century, this town of 27,000 could become the permanent home for used nuclear fuel from the country's 12 reactors, which provide 50% of the nation's power. "Oskarshamn is the logical place," says Anita Brakenhielm, governor of Kalmar County, where Oskarshamn is located.
With the Oskarshamn nuclear plant less than 30 kilometers from the center of town, residents are certainly used to nukes, and opposition from local leftists and Greens is mild. Sweden's first reactor started up here in 1972. With 1,000 workers, it's the town's second-largest employer behind truck manufacturer Scania. SKB already runs a temporary repository for all of Sweden's used fuel at the plant site.
But county and municipal politicians say that if Oskarshamn is to become the $3.75 billion repository's home, they want more than just jobs and tax benefits. They want cash compensation. "We've discussed it," says Oskarshamn Municipal Commissioner Torsten Carlsson. He won't say how much the town wants but notes that a repository would mean increased traffic on local roads and heavier use of municipal services. More tax income wouldn't necessarily be enough to cover those things, Carlsson says. And the repository might scare off tourists.
SKB, jointly owned by the country's nuclear utilities, began planning for the final disposal of used nuclear fuel 25 years ago. The idea is to pack the fuel into copper-steel canisters that will be put into caverns 500 meters deep in bedrock. Eventually, the caverns will be sealed. In theory, the fuel will be left undisturbed for 100,000 years, by which time it won't be highly radioactive. If the plan succeeds, Sweden will be the first country to have permanently solved the problem of disposing of used nuclear fuel.
NO, THANKS. Theory will be put to the test early in the next century. Two potential repository sites will be chosen, and detailed study of the bedrock will begin. By 2020, the repository is expected to be commercially operating. Officially, SKB is studying four communities. But many Oskarshamn locals are convinced the decision to put the repository here is a foregone conclusion because the town is so receptive. SKB has already been rejected by residents in three communities in northern Sweden.
If no community were willing to take the repository, Swedish law allows the national government to override the locals in the national interest. But SKB President Peter Nygards and Persson say they don't think it will come to that. "I believe we'll find a place," says Persson. "We all understand that for future generations, we have a moral obligation to deal with this."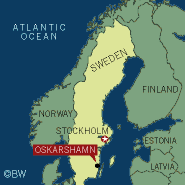 If the Swedish technique for permanently storing used nuclear fuel works, the copper canister bedrock disposal system might just eclipse Absolut vodka and the Volvo as the country's most visible export. Although noncommittal about whether SKB has chosen the right method, even Persson predicts that countries with big nuclear programs, such as France, Germany, and the U.S., will someday be using the Swedish disposal model as their standard. There's already strong international interest. SKB has worked closely with Finland, which is a few years behind in its disposal program, as well as Japan and the U.S.
But the likelihood that Sweden will set the standard worries SKB critics, who say the company hasn't sufficiently researched alternatives to its system. Groups such as Greenpeace say Sweden is better off keeping the fuel above ground, where it can easily be reached if there's a problem. Greenpeace would like to see the fuel packed into canisters that would be stored in buildings, probably made of concrete, and monitored by video. But SKB is pushing on--and in Oskarshamn, at least, it seems likely to get a radiant welcome.
Before it's here, it's on the Bloomberg Terminal.
LEARN MORE