Spacehab's Fresh Launching Pad
by
Is there a way for investors to take part in the new interest in space--in the wake of John Glenn's second orbiting and the start of building the International Space Station? Well, some pros have bought shares in Spacehab (SPAB), which operates the pressurized modules used for laboratory research aboard the U.S. Space Shuttle.
Spacehab, trading at 7 in mid-October, has climbed to 10, buoyed in part by a $62 million NASA contract to use Spacehab's modules on upcoming shuttle missions. "Spacehab's growth will accelerate with the start of missions to the International Space Station," says Julianne Pierce of The Red Chip Review in Portland, Ore. She also anticipates Spacehab to benefit from an increase in space research by nongovernmental bodies. Spacehab has further contracts with the European Space Agency and the German aerospace center. Pierce's 12-month target for the stock is 18.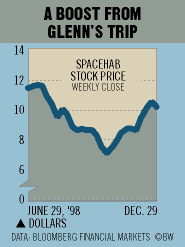 One of Spacehab's partners is Boeing, which recently signed a pact with Spacehab to cooperate in providing services for the International Space Station, as well as for commercial operations. In the past, Spacehab has hired Boeing to be the overall contract manager in building its modules.
With the construction of the International Space Station, says Spacehab CEO Shelley Harrison, both companies see new opportunities for working together. Boeing has overall management responsibility for the engineering and maintenance of the space station, while Spacehab has contracts to supply modules and other services for the station.
Analyst Peter Aseritis of Credit Suisse First Boston figures Spacehab will earn 84 cents a share in the year ending June 30, 1999, 90 cents in 2000, and $1.20 in 2001. He has a buy rating on the stock.
Before it's here, it's on the Bloomberg Terminal.
LEARN MORE