Fore Systems Rushes The Net
by
In late September, when Fore Systems (FORE) tumbled from 20 to 9, money manager Steve Dalton was quick to act: He scooped up Fore shares, feeling certain that despite disappointing second-quarter earnings, the company would make a strong snapback. True enough, the stock has rebounded to 16. Dalton believes it is headed higher--to the upper 20s in 6 to 12 months. Fore, among other things, "is an indirect way to play the strong Internet tide," says Dalton.
Fore, which makes networking products based on asynchronous transfer mode (ATM) technology, "has the best technology in such equipment," says Dalton, who heads First Capital Group, a division of First Union National Bank in Philadelphia. So far this year, First Capital's portfolio is up 38.5%, compared with a 26.4% gain for the Standard & Poor's 500-stock index.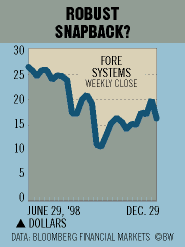 "Demand for faster Internet access is prompting upgrades of switches and equipment among telecom companies," says Dalton. "That bodes well for Fore, which makes some of the fastest ATM switches around."
Megan Graham-Hackett at S&P also thinks Fore is "well positioned for the Internet." It provides telecom companies with gear that will enhance the combination of voice and data communications on their networks. She says Fore's recent purchase of Berkeley Networks, which makes gigabit Ethernet switches, gives Fore a new entry in the small-to-midsize networking market. She figures Fore will earn 48 cents a share in the year ending Mar. 31, 1999, and 72 cents in fiscal 2000.
Before it's here, it's on the Bloomberg Terminal.
LEARN MORE