Commentary: Busting Up A Balance Sheet Game
Nanette Byrnes and Amy Barrett
For months now, Chairman Arthur Levitt Jr. and others at the Securities & Exchange Commission have been warning Corporate America in speeches and public appearances about the deteriorating quality of corporate earnings. The message: Too many companies are resorting to accounting tricks to deliver the results Wall Street demands. In particular, they say, reserves have been abused. Reserves are supposed to dedicate part of today's income to some known future cost. But the SEC says some companies take reserves unrelated to specific costs and end up deceiving investors by skimming from good years to make bad ones look better.
Now, Levitt is following up his talk with the kind of action that could start to end such abuses. On Dec. 22, the SEC sued W.R. Grace & Co. for fraud, alleging that the chemical company diverted up to $20 million of 1991 and 1992 earnings into reserves. Then, the SEC says, Grace shifted the money back into income in later, weaker years. Grace plans to contest the suit. But for other companies taking 1998 reserves, the action against Grace should be taken seriously. "This is the first," says SEC Chief Accountant Lynn Turner, "but certainly not the last we'll see." One accounting pro has already raised questions about reserves previously taken by Micron Electronics Inc. and about disclosure of treatment of reserves at H.J. Heinz Co.
STAGGERING. The commission's timing is excellent. Its crusade is starting at the time of year when financial hijinks are most likely. According to First Call Corp., which tracks Wall Street earnings estimates, a record 641 companies have announced new reserves this year. And Charles Hill, First Call's director of research, expects that number to grow in January and February. At the same time, the size of reserves has become staggering. In December, Royal Dutch/Shell Group announced a $4.5 billion restructuring charge.
The frequency and scale of the reserves are giving regulators lots to eyeball. Lawyers are paying attention, too. Harvey L. Pitt of Fried, Frank, Harris, Shriver & Jacobson is advising clients who are taking reserves to be careful: "Companies have to say to themselves, `The minute we take a restructuring charge, we will be a target of SEC review. So we should make sure every T is crossed and every I dotted."'
He's right. Turner says the commission will send letters to companies that take reserves for 1998. The letters, which will first go to companies taking the largest reserves, will urge them to make sure their accounting is correct and all appropriate disclosures have been made--and implicitly notify them that the SEC has its eye on them.
Micron Electronics, for one, has used some aggressive accounting when it comes to a certain reserve, says accounting watchdog Howard M. Schilit of the Center for Financial Research & Analysis. The Nampa (Idaho)-based PC maker had established a reserve for the costs of cases on infringement of other companies' intellectual property rights. Schilit, who says such reserves should be taken only for known violations where the liability can be precisely estimated, figures the reserve was made prematurely. In August, management reversed $11.8 million of the reserves, a boost to pretax income. "From the beginning to the end, it was strange," says Schilit. Micron says the reserve met generally accepted accounting principles.
Reversing charges is far from unusual now. Schilit points out that Heinz reversed $25.7 million of restructuring charges in the October quarter, boosting earnings and the Pittsburgh-based food company's gross margins. He says the company should have broken that reversal out in its income statement. Heinz says the charge and the reversal were clearly disclosed. And on Nov. 13, SunTrust Banks Inc. announced, after discussions with staff at the SEC, that they would reverse an excess $100 million that the Georgia bank had set aside to cover bad loans from 1994 to 1996.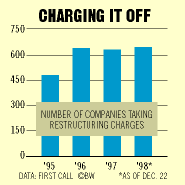 For executives at these companies and others, the Grace case is meant to send an unsettling message. In addition to suing the company, the SEC is bringing a personal administrative proceeding against seven Grace executives, from former CEO Jean-Paul Bolduc down to Robert W. Armstrong III, a division controller. The example is meant "to generate deterrence," says Columbia University law professor John C. Coffee. If that convinces executives that they can't get away with manipulating earnings by abusing reserves, the SEC will have performed a great service to shareholders.
Before it's here, it's on the Bloomberg Terminal.
LEARN MORE