Australia: A Bright Spot On The Pacific Rim
by
The 1998 award for resilience goes to Australia. Buoyed by low interest rates, a cheaper currency, and past economic reform, the country has not only survived the Asian crisis--it has thrived.
Before the crisis, 60% of Australian exports went to Asia, and most of those were commodities, whose prices have plummeted. But through the third quarter, the economy grew by 5% from the year-earlier period. A slowdown in 1999 is likely as world growth slips, but prospects remain generally upbeat. The Reserve Bank of Australia (RBA) and the Treasury Dept. recently released their 1999 economic outlook, projecting growth of 3 1/4% through the year ending June 30, half a point higher than the previous forecast. For the full year, most private forecasters expect growth of 2% to 2 1/2%.
Australia has prospered amid the region's hard times because low inflation has allowed the RBA to cut interest rates by 2 3/4 points since July, 1996. The latest cut, on Dec. 2, took the benchmark rate to 4 3/4%, the lowest in more than four years (chart). The moves have fueled consumer demand, homebuilding, and business investment. Also, the Australian dollar fell to a record low of 55.3 cents U.S. in August, continuing a 1 1/2-year drop that has cut some 30% off its value. The surge in competitiveness has allowed exporters to find markets outside of Asia, more than making up for revenue losses resulting from the slide in commodity prices.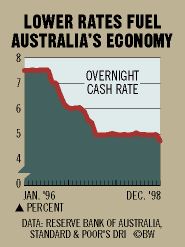 The 1999 outlook does have its negatives: Inflation, which has been below 2% since mid-1997, will edge up, although it should remain in the 2% to 3% target range set by the RBA. And amid slower growth, unemployment will remain near 8%. Moreover, the current account deficit is expected to rise to 5.5% of gross domestic product, from just under 5% in 1998, as exports soften.
However, investors remain comfortable with Australia's prospects, especially since the conservative government has returned the budget to surplus for the first time in seven years, giving the RBA room for further rate cuts.
Before it's here, it's on the Bloomberg Terminal.
LEARN MORE