Mexico: Walloped By Cheap Oil
Geri Smith
After months of haggling, Mexico's opposition-dominated Congress finally approved a controversial $65 billion program to rescue the country's wobbly banks. But Mexico is not out of the woods yet: The price of Mexican crude, which accounts for more than 30% of the government's tax revenues, has dropped 50% in a year (chart). On average, the export price is down to $7.10 a barrel.
Finance officials, who had calculated the country's 1999 budget of $100 billion using oil at $11 a barrel, are drastically cutting their spending plans. The budget will be the most austere in Mexico's history. Congress, which was to adjourn on Dec. 15, scheduled a special session to approve a budget by yearend to avoid a disruption of government services.
Despite the drop in oil prices, Mexican real gross domestic product probably expanded by an impressive 4.5% in 1998, boosted by a 7% rise in industrial activity. Until recently, officials insisted the economy would grow 3% in 1999. But now, most economists are predicting growth of just 2% to 2.5%.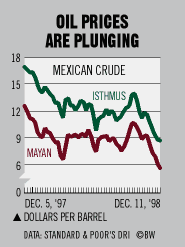 Some of the slowdown will be the result of government policies. Forced to find new revenues to replace oil receipts, the government pushed through 15% hikes on phone service and gasoline and increased income taxes on high earners. That is expected to push inflation above the target of 13% for 1999, eroding recent wage gains. Plus, the Central Bank tightened the money supply, pushing interest rates on 28-day Cetes treasury bills to 35%, putting a damper on many companies' investment plans.
With the stock market down 40% in dollar terms so far in 1998, officials are aware that Mexico risks a fallout from concerns over Brazil and Venezuela's stability. So they're set on keeping the 1999 budget deficit at just under 1.5% of GDP. That means more austerity. But with memories of the 1994 devaluation fresh in people's minds, officials are loath to show signs of fiscal irresponsibility in the year leading up to presidential elections in July, 2000.