Are Emissaries Visiting St. Paul?
By
Some very interested suitors may be taking a close look at St. Paul Bancorp (SPBC). So say several pros on the lookout for takeover bait. They reckon St. Paul's days as an independent savings bank holding company may be numbered: "There are indications a deal is brewing," says one investment manager who has been accumulating shares. He says that St. Paul executives have had informal talks with other banks, including the Netherlands' ABN Amro and Charter One Financial, which has offices in Michigan, Ohio, and western New York. BankAmerica is also reported to be interested.
Analysts, too, see a buyout in store for St. Paul, the largest thrift in Chicago, with 65 branches and a network of more than 550 automated teller machines. Says Thomas O'Donnell of Salomon Smith Barney: "We believe the odds favor St. Paul being acquired--perhaps in the near term." Timothy Willi of A.G. Edwards agrees. He says the downside risk in buying stock in St. Paul, with total assets of nearly $6 billion, appears modest, given the potential for an earnings rise--or a takeover. On fundamentals alone, Willi thinks the stock, now at 22, is worth 25. In a buyout, St. Paul should fetch 35, he adds. So far this year, the stock has slid 13%.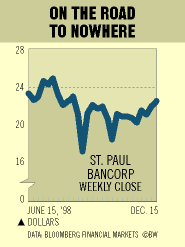 Salomon's O'Donnell notes that St. Paul recently put in place a cost-cutting plan that could boost earnings by 15 cents to 17 cents a share. "Commendable as the plan is," he says, the move "may be too little, too late" to protect St. Paul from a possible takeover. The cost-reduction plan was announced after some big investors demanded that management consider selling the company.
Keefe Managers, an investment firm that owns 3% of the stock, has filed a shareholder resolution urging management to sell. It noted that St. Paul Bancorp has scarcely earned a competitive return in the decade since it went public.
Willi figures St. Paul will earn $1.45 a share this year and $1.55 in 1999. Spokesman Bob Williams says the company would respond "very responsibly" to any offers, but declined comment on whether it has received any.