Japan: The Politicians Have No Time To Lose
Japan's economy falls deeper into recession while government officials squabble about a stimulus package. And despite interest-rate cuts around the world, Japan has almost no room to lower rates.
Real gross domestic product fell 0.7% in the third quarter from the second, or 3.6% from a year earlier. It was the fourth consecutive quarterly drop, the worst performance in the postwar era (chart). Companies cut investment by 4.6% from the second quarter as profits fell, consumer spending dropped an additional 0.3%, and housing plunged 6.2%. Prices economywide were unchanged for the quarter.
Worse still, the fourth quarter is not looking any healthier. In October, household spending declined 1%, and industrial output fell 8% from a year ago. The unemployment rate edged up to 4.3%--low by most nation's standards, but unthinkably high in Japan.
Finance Minister Kiichi Miyazawa has acknowledged the economy will fall by more than the government target of a 1.8% drop for the fiscal year ending in March, 1999. And Economic Planning Minister Taichi Sakaiya said the economy may shrink further in the 1999 calendar year. Miyazawa has also said the Bank of Japan will not respond to the Dec. 3 cut in European interest rates. Little wonder, since the BOJ doesn't have much more to cut. Its discount rate is a record low 0.5%, and its overnight lending rate is 0.25%.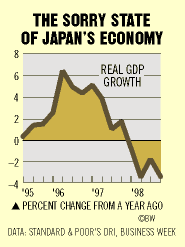 Given such bad news all around, one would think policymakers would be rushing to jump-start domestic demand. Instead, the ruling Liberal Democratic Party is fighting with the Liberal Party. The LDP has proposed a stimulus package of 24 trillion yen (about $200 billion), which includes an income tax cut and gift coupons to pump up consumer buying. The opposing Liberals have countered that a cut in the sales tax is crucial to lifting spending. They also want to abolish a securities-transaction tax and offer breaks for home buyers. Parliament isn't expected to discuss the LDP's plan until January. In the meantime, Japan's economy continues to sink.