Readers who download titles from the Net onto compact electronic books can search and annotate text with a stylus. Cyber booksellers such as barnesandnoble.com sell titles at 20% off retail. As with most things digital, prices for the $600 SoftBook and $499 NuvoMedia Rocket EBook (photo) should fall.
SoftBook: (800) 222-5861 Levenger (for EBook): (800) 544-0880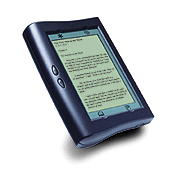 Before it's here, it's on the Bloomberg Terminal.
LEARN MORE