Dynamism At Security Dynamics
by
The sharp growth in E-commerce has produced a throb of security headaches. So some pros see opportunities for Security Dynamics Technologies (SDTI), which makes products to protect computer data. Since Oct. 8, its stock has leaped from 6 to 19.
That rapid rise doesn't faze the bulls, who think Security Dynamics may again reach its 1997 peak of 44 during the next 6 to 12 months. "The stock could go back to its old high for two reasons," says one San Francisco money manager: There's a huge market for its products. And "the company could be a takeover target."
Through its RSA unit, Security Dynamics makes cryptographic and electronic data-security products. Security Dynamics also licenses its technology to manufacturers. Microsoft, for instance, embeds the encryption on its Windows NT system, Intuit uses it on Quicken, and Netscape has it on the Netscape Navigator. Security Dynamics' products use a patented smart-card technology and access controls that authenticate users' identity.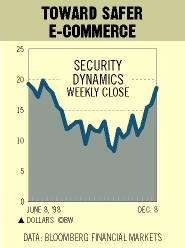 To ward off unwanted suitors, Security Dynamics has authorized the buyback of 4 million shares. The company has $150 million in cash, or $3.50 a share, notes Dawn Simon, an analyst at Brown Brothers Harriman, a New York investment firm. It also owns a minority stake of 4.4 million shares in VeriSign, a provider of digital solutions and infrastructure to conduct secure commerce over the Internet.
James Wade of BT Alex. Brown estimates Security Dynamics will earn 51 cents a share this year and 70 cents in 1999. At its current price, says Wade, "the stock is significantly undervalued."
Before it's here, it's on the Bloomberg Terminal.
LEARN MORE