Dreams Begin To Melt In An Old Steel Town
His fingers moving deftly, Eric J. Littleton works a knife around a bloody deer's thigh in the basement of a modest clapboard house in Weirton, W.Va. Just laid off from his job operating a crane at the huge steel mill in town, Littleton, 28, needs the $4 he gets for skinning and dressing each deer. He's glad it's hunting season. Holidays are coming, and he has a wife, a son, 6, and another child on the way.
Deer-skinning comes naturally to the Littleton family, which has lived in the rugged brown hills of northern West Virginia for decades. So does steelmaking. Eric was a fourth-generation employee at the Weirton Steel Corp., the nation's eighth-largest, which dominates this gritty town of 22,000. The Littletons have seen it all: bitter labor strife in the 1930s, frantic production during World War II, steel's slow decline in the 1960s, then in the 1980s, a triumphant comeback.
Eric's father, Delbert, was among the Weirton workers who saved the mill in 1982, through an employee stock-ownership plan. After buying the plant from National Steel Corp., workers brought it back to profitability by cutting costs and raising nearly $1 billion for improvements. In mid-1997, Weirton turned the corner and went on to four straight profitable quarters. Sales in 1997 were $1.4 billion.
But today, a new and fearsome dragon is rearing its head: the global economy. With demand in Asia or Russia weak, cheap Asian steel crosses the Pacific and piles up on U.S. docks instead of getting consumed locally. U.S. steel prices have plummeted 20% since spring. Weirton lost $487,000 in the third quarter of 1998 on revenues of $315 million. In early November, 342 workers--nearly one out of every 10--were laid off, and on Dec. 3, another 415 were given furloughs when Weirton shut down one of two blast furnaces. Nationally, at least 5,000 steelworkers have been laid off, with 5,000 more likely to lose their jobs by yearend.
As he feeds venison into a grinder, Eric Littleton worries that things won't get better. "I just don't understand what's happening. We have no control over this," he says. An aunt and uncle have been laid off, too. Littleton's sentiments echo throughout the city, whose Main Street slices right through the mill. "Our steel is better than anybody's. We'll compete with anyone if it's a fair fight," says Ernest M. Nicholas, a retired worker, as he hangs Christmas decorations on the front of All Saints Greek Orthodox Church.
Nicholas' parents worked at the mill after they emigrated from Greece in the early 1900s. Other workers came from Serbia, Italy, Arabia, and Poland. Traditionally, high school students here didn't bother with college. After graduation, they took a month off, then worked at the mill for four decades. Current salaries of about $39,000 a year are generous by local standards.
"NOT ENOUGH." Weirton has been through layoffs before, and it knows how to pull together. At the white-brick hall of the Independent Steelworkers Union, which represents most workers, Frank DeCaria, a local grocer, hands out receipts for 375 turkeys. DeCaria sold them at cost to the union, which is giving them away. "In the past two months, this mess has cost me a considerable impact in retail. I have a 10% to 15% loss," he says.
Weirton merchants, the union, and the company are attempting to raise awareness and political support with a Stand Up For Steel movement. Placards fill store windows, such as those at Joyce Stoica's Delaware Connection sandwich shop, overlooking a hulking maze of pipes at the mill. A billboard broadcasting the slogan looms over U.S. 22, the main road to town. Some 5,000 showed up at a Stand Up For Steel rally attended by regional politicians in early November. After 11 steel companies, including Weirton, filed antidumping charges in September, the Commerce Dept. issued preliminary rulings against Japanese and Russian producers. Still, "that's not enough," says Weirton Steel President and CEO Richard K. Riederer. Testifying before the U.S. Senate on Nov. 30, he called for immediate measures, such as setting global quotas for steel imports, to give his industry some breathing room while the world economy gets back on track.
Residents wonder if anybody outside Weirton is standing up for steel. Delbert Littleton says Weirton got plenty of attention in the 1980s when the ESOP was put together, with workers going as far as Hawaii to talk up the plan. "We had investment bankers from Wall Street all over the place," says Delbert, 46, who has worked at the mill for 26 years. Weirton was such a poster child for Rust Belt renaissance that it was one of the first campaign stops in 1992 for Bill Clinton and Al Gore. In a speech, Clinton promised to uphold federal trade laws to the fullest. "He hasn't lived up to the point," says Delbert Littleton.
TIME TRIAL. Even if there's government action, it will take time. Meanwhile, workers fear Weirton Steel will lose more market share and delay or cancel planned capital improvements. Union officials say Weirton could even become takeover bait if the steel industry is forced to consolidate--much as energy giants Exxon Corp. and Mobil Oil Co. are merging because of low oil prices.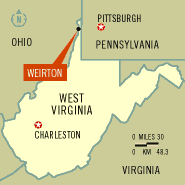 Weirton Steel is an attractive acquisition candidate because of its tin-plate operation, which makes cans for Campbell Soup Co., Friskies cat food, and others. It has 24% of the tin-plate market in the U.S., accounting for 45% of revenues. A takeover by, say, U.S. Steel Group would save the tin-plate operations but close others, slashing the workforce to 1,000, the union fears.
If that happens, there's virtually no chance Eric Littleton would be called back to work. "This layoff might be for six months or it might be forever," he says. That's a gloomy prospect for the entire family. Says Delbert: "I think Eric's is the last generation of Littletons ever to work at the mill."
Before it's here, it's on the Bloomberg Terminal.
LEARN MORE