Cd Warehouse Makes Music
by
In early October, CD Warehouse (CDWI) shares tumbled to 5--after hitting 25 in mid-July. The stock was swept down as part of the stock market's late-summer slide. But in early November, it started gaining and by Dec. 8 was back at 21. The reason behind the stock's sharp snapback: With considerable help from IBM, its partner in the joint venture, CD Warehouse is on the point of launching a Web site to sell used CDs on the Internet--in time for Christmas. The company operates 302 stores in 40 states that mainly sell used CDs.
By setting up an IBM-designed Web site, "CD Warehouse will become the largest pre-owned-music-CD site on the Net," says a New York investment manager who has been buying shares. "With its current operations already profitable, CD Warehouse will become the superdomo in the used-CD market," he adds.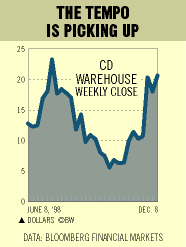 The Web site, which will give customers fast access to a wider selection of CDs, will integrate IBM's various services with CD Warehouse's existing business plans. For instance, IBM's Net.Commerce server will enable CD Warehouse customers to conduct searches and make secure credit-card transactions. And IBM's MQSeries messaging software will manage the movement of orders and track inventory data among all the CD Warehouse stores.
Says CD Warehouse CEO Jerry Grizzle: "We're sure the sales over the Internet will be huge--and very profitable. We reap 100% gross margins on used CDs." He adds that 70% of company sales come from used music disks. The supply of CDs will come mainly from its own customers as well as brokers who buy and sell CDs.
Some analysts expect that CD Warehouse will earn 30 cents to 40 cents a share in 1998 and 50 cents to 55 cents in 1999, up from 1997's 23 cents. And these figures don't include earnings from Internet sales.
Before it's here, it's on the Bloomberg Terminal.
LEARN MORE