Big Network On Campus?
By
How about a Web site for the 15 million students enrolled in 3,000 U.S. colleges and universities--where they can obtain all kinds of information and services, ranging from college registration, library research, textbook search, and shopping in campus stores and eateries? This is exactly what Harlan Peltz, chairman and CEO of Network Event Theater (NETS), has started to set up with Ben Bassi and Bill Townsend. Both were part of the founding management at Lycos, the fourth-largest Internet company. No wonder Network's stock--languishing between 2 and 3 earlier this year--has zoomed to 9. The Internet unit is expected to be launched in the next few weeks. The talk is that Network Event will then take the new operation public in an initial public offering.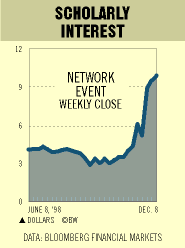 Network Event already communicates with college kids through its network of campus theaters, giant wallboards that carry ads, and a national college magazine. Microsoft, AT&T, and Nike are among the advertisers in Network's theaters and on its billboards. With the Net, Peltz aims to link up a student's class schedule, book lists, extracurricular activities, E-mail, and campus services.
Network is expected to post sales of $17 million for fiscal 1999 and a loss narrower than last year's deficit of 69 cents a share. Revenues in fiscal 1998 were $11.2 million. The Internet unit, says Peltz, should make money in two years. Some big investors had stakes in the company even before the Internet idea: Warburg Pincus Asset Management owns 9%, George Lindemann about 6%, Al Taubman 6.5%, and John Hancock Advisers 7%. Peltz owns 21%.