A Tale Of Two Job Markets
The services industry boom offsets a slump in manufacturing
Mike Mcnamee
These are unhappy times for miners, farmers, and factory workers, who are lining up for jobless benefits as the Asian crisis hammers commodity prices and demand for U.S. exports. And more bad news is coming: Boeing plans to ax 48,000 jobs, the Exxon-Mobil merger will eliminate 9,000 positions, and Johnson & Johnson is handing out 4,100 pink slips. Yet jobs go begging at restaurants, retail outlets, and computer service companies.
It's a tale of two economies. Manufacturers and financial giants exposed to the turmoil in global markets are hurting, while service industries are working overtime to satisfy booming domestic demand. Factories eliminated 245,000 jobs between March and November. On Dec. 9, the Federal Reserve's Beige Book said: "Manufacturing activity was generally softer, mostly due to output declines in export-related industries." Yet service providers created more than five times that number of jobs during the same span. By the end of 1998, the economy will have generated 236,000 net new jobs a month, and workers will have a 2% rise in earnings after inflation.
No one expects 1999 to match that pace. Major U.S. companies are announcing layoffs at a near-record rate: 574,629 job cuts announced through November, the most since 1993, according to Chicago outplacement specialists Challenger, Gray & Christmas Inc. Still, with forecasts of 150,000 new jobs a month, "1999 won't be a bad year by normal standards," says David A. Wyss, chief economist for Standard & Poor's DRI. The jobless rate will stay near its current 4.4%, and wages will be up again, DRI predicts.
Nonetheless, the split between the 20% of American workers exposed to the global tempest and everyone else will deepen. Already, job losses are heavy in leather goods (down 8.2% since March), apparel (down 7.7%), electrical machinery (down 3%), and steel (down 2.8%). Boeing may epitomize the Asian spillover. The aircraft maker has boosted its planned layoffs for the next two years by 20,000 because orders from Asia declined and the company needs greater productivity in its plants. The Boeing cuts will reverberate: Northrop Grumman Corp., which is already cutting 8,700 jobs due to Boeing's cutbacks last summer and the winding down of B-2 bomber production, anticipates laying off another 1,100 workers who assemble 747 fuselages for Boeing.
DOMESTIC CUSHION. Some factories are still posting "Help Wanted" signs, however. Indeed, 33% of manufacturers surveyed by the Bureau of National Affairs plan to add workers in early 1999. For some, spending at home has cushioned the blow from overseas. Dell Computer Corp. expects to add 6,000 U.S. employees this year. And thanks to a 15 million-plus annual pace for U.S. sales, auto makers are also bullish: "We're in a very good position to avoid having any significant layoffs," says DaimlerChrysler co-CEO Robert J. Eaton.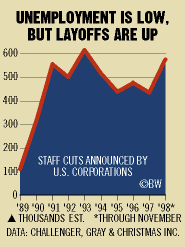 But the biggest job gains will continue to be in services. The U.S. workforce of Wal-Mart Stores Inc. is up by about 75,000 this year, to 785,000. TJX Cos., parent of off-price retailer TJ Maxx, is staffing up for its new A.J. Wright clothing chain. ACE Cash Express Inc. expects to add 140 storefront check-cashing centers and up to 700 jobs by mid-1999: "People need to cash their checks and pay their bills no matter what's happening," says a spokeswoman.
Cashing checks doesn't pay as well as assembling airliners. But it may be that the shift toward services isn't as hard on paychecks as had been predicted by some economists. The average production worker in a service industry earned $12.50 an hour in November, vs. $13.61 for a factory worker.
Layoffs and job turnover have always been part of the U.S. economy. But the global turmoil creates a new pattern: The worst of times for workers exposed to harsh winds from overseas, the best of times for those who aren't.
Before it's here, it's on the Bloomberg Terminal.
LEARN MORE