Taiwan: Is This Tiger Badly Wounded, Too?
As scandals and bankruptcies rise, Taiwanese worry
Jonathan Moore
There was plenty of bad news to fuel a panic. When a subsidiary of conglomerate Kuang San Group failed to pay for $123 million in stock purchases, the news sparked a run late last month on the group's Taichung Medium Business Bank. Now, prosecutors want to know why just four weeks ago the bank lent $228 million--most of it unsecured--to some of Kuang San's shakier affiliates, even though the group was on the verge of bankruptcy. Prosecutors also are looking into whether the chairman, Tseng Cheng-jen, was trying to funnel $98 million of these loans overseas, through bank accounts held in others' names.
Tseng denies he was spiriting the money away and says the group can cover its debts. Yet the government has seized the bank and barred Tseng from leaving the country while considering whether to file charges, and the mess is increasing Taiwan's jitters. As bankruptcies proliferated all fall, the authorities asserted the problems were limited in scope. Yet in the last few days, investors have started to worry that the loan defaults and stock manipulations are far more numerous than imagined. The goings-on are reviving memories of Taiwan's 1990 stock market crash, when an asset bubble and poor regulatory oversight triggered a financial convulsion. Analysts say some 30 listed companies--7% of the exchange--are now close to failing, and the Taipei market has slumped 21% since April.
This is all bad news for the ruling Kuomintang, which has connections with many of the companies in trouble. The KMT has not commented, but with key legislative and mayoral elections coming on Dec. 5, the scandals have become a hot campaign topic. Amid the campaign frenzy, members of the pro-China New Party, such as party bigwig and radio host Jaw Shau-kong, have made the corporate scandals part of their anti-KMT credo. "All these companies have close personal and investment ties to the KMT," says Ting Tin-yu, a Taiwan sociologist and friend of Jaw's. "It's crony capitalism, just a different type from Malaysia and Thailand."
The cases just keep piling up. In early November, another conglomerate, Kuoyang Group, bounced some checks. Investigators now suspect the former group chairman, Hou Hsi-feng--he resigned last month--took $200 million of the Kuoyang Construction Co.'s treasury to bail himself out of some shaky stock positions. Hou claims he used the money to buy Kuoyang Construction stock to support the price and protect investors. As in Tseng's case, prosecutors are considering what charges to file. Meanwhile, at car importer Chinese Automobile Corp., President Victor Chang and his brother, company Vice-President Chang Chao-liang, are talking with the prosecutors on the whereabouts of $112 million in company funds. No charges have yet been filed.
CRUMMY COMPANIES. It's not illegal in Taiwan to borrow money to buy shares in one's own company--if everything is properly disclosed. But investigators want to know why so much corporate money is unaccounted for, whether purchases of company stocks were made off the books, and whether insiders used their companies' money as their own.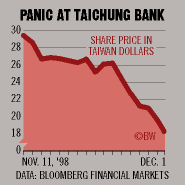 Analysts say investigators are also concerned about certain practices. Some companies used their own funds and those of outside investors to purchase crummy companies on the stock market. Then they transferred viable construction projects to the newly bought companies, prompting a jump in the shares of the new subsidiaries. The companies launching these schemes then used the higher-priced stock as collateral to borrow more money to further drive up the shares. The stratagem worked--until the market slump prompted a rash of margin calls from the banks, and many companies got squeezed.
Finance Vice-Minister Sean Chen says these dealings violated Taiwan's laws against stock manipulation. "The problem is that exchange officials weren't familiar with the techniques being used," says Chen. "But we've learned a lot from these incidents." The KMT's critics counter that regulators could have cracked down much sooner on the highfliers. Maybe the government can act fast enough to head off a market disaster. But the party will have a lot to answer for if investors and depositors start to bolt.