Lands' End Tacks Again
Can the cataloger's fourth CEO in six years stop the drift?
De'Ann Weimer
It took just nine months for former Lands' End Chief Executive Michael J. Smith's relations with Chairman Gary C. Comer to go from superb to sour. After leading the Dodgeville (Wis.) cataloger to record operating earnings of $99 million for the fiscal year that ended January, 1998, Smith this year let inventories balloon and put out a spring collection that his own merchandising chief conceded was "garish." By Oct. 28, expectations for a merry Christmas were disappearing. With Lands' End Inc.'s third-quarter operating income down 45%, to $9.2 million, and shares at $15, from a February high of $43, Comer unceremoniously pushed out his onetime protege.
Problem solved? Hardly. Smith is the third CEO in five years to hit rough waters at Lands' End--and the second to get the heave-ho from Comer. The company's 70-year-old founder remains Lands' End's largest shareholder, with 57% of the company. Add to that a board peppered with insiders that appears to be dominated by Comer, and some investors and industry observers question whether the company's real problem resides in the chairman's office rather than the CEO's. "Three presidents in five years. We think it's the mark of mismanagement on the part of the major shareholder," says catalog consultant Maxwell Scroge.
INSULAR CULTURE. Neither Comer nor David F. Dyer, Smith's replacement as CEO, agreed to be interviewed for this article. But interviews with investors, analysts, headhunters, and six former executives and directors show rising concern that Lands' End is not being managed well. There is worry, too, that the insular culture Comer has created--exemplified by the tightly knit board and a reticence to hire outsiders--may have to change for Lands' End to regain its leadership position. "Gary Comer has made that culture what he wants it to be," says Todd C. Ahlsten, director of research for Parnassus Investments. "But that culture is hard to maintain as you grow."
It's all quite jarring, since it was Comer who built Lands' End into a household name. Starting from a catalog he founded in 1963 for sailing enthusiasts, Comer created a hot preppie-apparel brand by the 1980s. Its stock soared as sales grew 27% a year in the late '80s.
But recent returns have been far from steady. The big culprit is Lands' End's core clothing catalog. While the $87 billion catalog industry has jumped 8% annually over the past five years, Lands' End's core catalog, which provides more than half of its $1.3 billion in sales, has eked out a mere 2% annual increase. Earnings, too, have seesawed wildly from year to year. For the 1999 fiscal year--which will end in January--operating income is expected to decline 20%, to $79 million.
SELLING SHARES. So it's no surprise that Wall Street has become restless. Large investors, including Invesco Capital Management Inc. and National Life Insurance Co., have pared down or sold off entirely large Lands' End investments in recent months. And for those that remain, leadership is the key to any possible turnaround. "We're very interested in who's atthe helm," says Scott T. Brayman, fund manager for Centennial Fund, which recently sold almost half of its 200,000 shares.
That has been a key question since the early 1990s, when competition in cataloging heated up. According to the company, Comer realized the need for more modern management and gave up the CEO's job in early 1990. Together, he and Richard C. Anderson, a longtime lieutenant who succeeded him as chief executive, worked to find managers who would take the company to a new level. In early 1991, the pair hired William T. End from rival L.L. Bean Inc. to work with Dyer, a foRmer star at Florida-based chain Burdine's Inc. who became Lands' End's merchandising chief. End became CEO in January, 1993.
With the blessing of Comer and the board, the pair set off on an aggressive growth plan. To reach new customers, they bought and developed high-end catalogs such as The Territory Ahead, which sells expensive casual wear. They also acquired a line of specialized expedition gear called MontBell. The moves spurred growth--sales jumped 14%, to $992 million for the fiscal year that ended January, 1995, the second year of End's tenure. But expenses rose even faster, and operating earnings fell 10%, to $63 million, as margins slid from 8.1% to 6.4%.
HOMEGROWN. Three former executives and analysts say the slide vexed Comer, and before the year was even over, he had had enough of the outsiders' efforts to rev up the company. Complaining that Lands' End was trying to do too much, Comer forced out End in December, 1994, and replaced him with Smith. He couldn't have made a more homegrown choice: The then-34-year-old executive had spent his entire career at Lands' End. Comer, with the board's support, instructed Smith to undo many of End's moves and refocus on customer service, quality, and the core catalog. "Comer wanted to get back to Lands' End's old culture," says analyst Kevin E. Silverman of ABN AMRO.
But when Smith's troubles began to surface this year, says a source close to the board, Comer began to discuss the need for another change with directors. Having seen the chairman handpick two failed CEOs in the course of four years, many companies might have turned to an outside headhunter for help. Not Lands' End. "They've never hired a search firm," says Harold D. Reiter, president of Herbert Mines Associates, which specializes in placing retail executives. Nor did the board appoint its own subcommittee to conduct a search, according to a source close to the board. Instead, Comer unilaterally made the decision to bring back David Dyer. "It is governance by fiat," says Patrick S. McGurn, director of corporate programs at proxy adviser Institutional Shareholder Services.
"ONE GUY." That the board quickly approved Comer's choice doesn't surprise investors and corporate-governance experts, who call the Lands' End board one of the most insular in Corporate America. The eight members include close advisers to Comer, such as his attorney, Howard G. Krane; his longtime personal-investment adviser, John N. Latter; Richard Anderson, who replaced Comer as the company's second CEO; and David B. Heller, an investment banker who advised Comer on the company's 1986 initial public offering. More recent additions are the CEO and the vice-chairman of sales. The only member without a direct connection to Comer or the company is Daniel Okrent, new media editor for Time Life Inc., who became a director last October. "The board is basically one guy," says Silverman of ABN Amro: "Gary Comer."
CROWDED FIELD. In many ways, Dyer was an unusual choice for Comer to make. He helped put in place the failed expansion strategy of the mid-1990s, though he left before the disastrous Christmas of 1994 to become head of merchandising at Home Shopping Network Inc. He later became a consultant, helping J. Crew Group Inc. ready its Popular Merchandise Club catalog for sale. But an attempt to get investor David Bonderman's Texas Pacific Group to back his own catalog venture failed, according to industry insiders. Although a good merchant, Dyer isn't the first person recruiters would think of for "a top CEO slot," says consultant Scroge.
Will Dyer do any better than his predecessors? He faces growing competition from new department-store catalogs such as Macy's, Internet shopping, and retailers such as Gap and Banana Republic. Lands' End also has an estimated $100 million in excess year-old inventory on its books and $257 million in short-term borrowings taken primarily to carry that and other inventory. Although hastily printed sale catalogs are expected to arrive in mailboxes before Christmas, a multimillion-dollar write-off in January looks likely. "It's in Dyer's interest to start with a clean slate," says Brayman.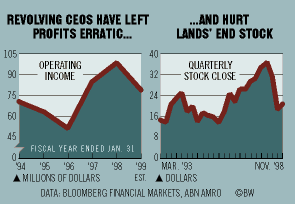 Dyer has promised to pare down the number of items Lands' End sells but has yet to say much about his growth plans. Some investors are hopeful that his background at HSN will help bolster the company's already strong Internet sales. Parnassus' Ahlsten has started buying shares on the belief that electronic commerce will overcome the company's problems. In recent days, the stock has edged up to 22 on hopes of a good Internet Christmas. "Dyer has to do something fast; Gary is counting on it," Ahlsten says. And pleasing Gary Comer appears to the new CEO's No. 1 job.