A Breath Of Fresh Air For Inhale
By
It is unusual for a big pharmaceutical house to plunk down hundreds of millions for a product still in clinical trials--and whose approval by the Food & Drug Administration is two years away. But that's what Pfizer did for Inhale Therapeutic Systems (INHL), whose device lets patients inhale drugs--including insulin for diabetics.
Last month, Pfizer signed a pact with Germany's Hoechst Marion Roussel to build a jointly owned plant in Frankfurt, estimated to cost $500 million to $800 million, to produce bulk insulin. The two will also help Inhale develop and promote the inhaled form. "The Pfizer and Hoechst commitment underscores the size of the market that the two drugmakers expect," says Caroline Copithorne, a biotech analyst at Prudential Securities.
Pfizer's pact with Hoechst--a top insulin maker--puts Inhale's product in a stronger marketing position, she adds. From the insulin supplied by Pfizer and Hoechst, Inhale produces dry-powder insulin. It also makes inhalers.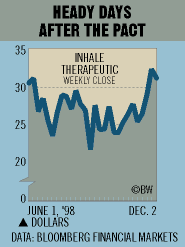 On Nov. 7, Pfizer, which owns 5% of Inhale, started Phase III trials for inhaled insulin. Analyst Peter Ginsberg of investment bank Piper Jaffray expects Inhale to file with the FDA in the first half of 2000, which could lead to approval in early 2001. He reckons there are 4.1 million diabetics who could use inhalable insulin, leading to potential U.S. sales of $3.3 billion a year.
A New York money manager figures Pfizer and Hoechst will produce worldwide sales of $300 million by 2001. Figuring a modest 15% royalty, he calculates that Inhale could earn pretax $45 million, or $3 a share. On that basis, he says the stock, now at 31, is worth 45 to 50.