Who Says Intel's Chips Are Down?
Its three-tier strategy keeps sales afloat in an off year
By
In early November, during his annual trip to China, Intel Corp. Chief Executive Craig R. Barrett attended an Intel-sponsored computer street fair in the city of Chengdu--one of the marketing programs the chipmaker uses to push personal computers where retail outlets are still in short supply. More than 100,000 people showed up, cleaning out the mom-and-pop computer makers who hawked stacks of home-built Pentium II PCs on creaking sidewalk stands. Many buyers lugged their computers home lashed to the backs of bicycles. Even Barrett, who coolly presides over Intel's $26 billion chip empire, says he was "truly amazed."
Equally amazing: Those eager buyers weren't snapping up bargain machines made with Intel's inexpensive Celeron chip. Instead, they were clamoring for PCs built on the more powerful, and profitable, Pentium II. Good thing for Intel. In a year when average PC prices dropped 7.3%--setting the stage for Intel's juicy profit margins to get whacked--Intel has managed to stay above water thanks to strong sales of its priciest chips. True, analysts expect Intel's earnings to fall 16% this year, the company's first annual decline in a decade, on revenues that are up just 4%. But experts had been fretting it would be a lot worse.
What saved Intel's bacon was a new strategy it launched in the fall of 1997. Barrett and his mentor, Chairman Andrew S. Grove, decided 18 months ago to segment Intel's product line into chips aimed at specific markets, such as cheap PCs, mid-tier "performance" PCs, and powerful corporate servers. That let Intel balance thin profits from products like the Celerons, which sell for as little as $86, with cash cows like the Pentium II Xeon workstation and server chips, which cost up to $2,000. The combination helped Intel hold its average selling price nearly flat for the last five quarters, at around $210. "Were it not for a timely switch to a segmentation strategy, Intel would be facing an abyss," says analyst Drew Peck of SG Cowen.
NO CHANCES. The balancing act, though, is not without risk. Analysts expect Xeon-class chips used in corporate workstations and servers to pump $1.8 billion into Intel's bottom line in 1999--22% of its total profits, and more than three-quarters of expected profit growth. The only problem: High-end chip sales could evaporate if the global economy tanks further or if corporate buyers worried about the Year 2000 bug freeze their PC purchases next year.
A shaky economy also could drive more consumers to cheap PCs. That would force Intel to slug it out with low-price rival chips made by Advanced Micro Devices Inc. and National Semiconductor Corp. Intel was late to address that fast-growing segment, and despite gains made with the Celeron processors, it still has less than 30% market share in sub-$1,000 PCs sold through U.S. retail stores, says researcher PC Data Inc. "Is pricing pressure still a risk? Definitely," says analyst Erika Klauer of BT Alex. Brown. "Is the economy still a risk? Absolutely."
Barrett dismisses the notion that Intel is more vulnerable to an economic downturn than it has been in the past. "I'm not sure that's a valid concern," he says. "We're not further out on the edge or suffering fear of falling from great heights." Still, the company isn't taking any chances. It is mounting an unprecedented cost-cutting program to keep profits on track in 1999. "We will increasingly put emphasis on the cost side," Grove told Wall Street analysts on Nov. 13. The message analysts took away: After a decade of go-go growth when the
chipmaker could set its prices and watch profits roll in, "Intel is now more like everybody else," says SG Cowen's Peck.
Fortunately for Intel, the picture is looking rosier. Despite earlier warnings that its fourth quarter might be flat, the company surprised Wall Street on Nov. 9 by forecasting 8% to 10% sequential revenue growth, to around $7.3 billion, thanks to unexpectedly strong PC demand. Better yet, Intel's gross margins will rise two percentage points, to 55%, well within its historic profit levels. NationsBanc Montgomery Securities Inc. analyst Jonathan J. Joseph predicts those margins will increase slightly next year, pushing Intel's profits to a record $8.2 billion, on revenues of $33 billion.
The nascent turnaround is welcome news to shareholders. After watching Intel's stock fall 32%, to 65 11/16, from February to June, they've pushed it back up to over 115, a record. Indeed, Intel's upbeat finish to the year has belied skeptics who warned that collapsing PC prices signaled the end of Intel's money machine. But to adapt to a changing world, Intel is scrutinizing every expense. "We put very aggressive spending targets on everybody," Barrett says.
RECYCLING. Intel has already curtailed travel spending, in part by using more videoconferencing. Head count will be reduced this year by 3,000, to about 61,000 people, through attrition and layoffs across the business. And it's urging customers to place their orders over the Internet, which reduces processing expenses and improves productivity. Already, the company books about $1 billion in orders per month over the Net, though it hasn't disclosed how much that saves. All told, these and other measures could chop expenses by $45 million in 1999, analysts estimate.
Intel is looking for even bigger savings in production costs. It is accelerating by six months, to mid-1999, its move to next-generation chip manufacturing technology: Shrinking the width of circuits on chips from 0.25 microns--about one-four-hundredths of the thickness of a human hair--to just 0.18 microns. That lets Intel make 75% more chips per silicon wafer, dramatically slashing its unit costs. And instead of buying all-new production gear, the company plans to reuse 70% of its current equipment as it shifts to 0.18-micron widths. These and other moves should raise gross profits by more than $1 billion in 1999.
All the cost savings won't help if Intel doesn't kick-start top-line growth. The entry-level Celeron chip, widely panned when it first arrived last April, was revamped in August and is starting to take off with PC makers such as IBM, Compaq, and Hewlett-Packard. Intel expects to double production this quarter, to 8 million units--more than the entire output of AMD, National, and a host of smaller competitors combined.
Intel is bent on getting an even bigger piece of the pie. It will roll out faster Celeron chips in the first half of 1999, and may discount older versions to as low as $50--comparable to rivals' prices--estimates Linley Gwennap of chip researcher MicroDesign Resources. Intel Executive Vice-President Paul S. Otellini says Intel aims to claw back cheap PC business. "We're not willing to live with the share we have," he vows.
Even so, many analysts think Intel secretly wishes cheap PCs would go away. The chipmaker would rather consumers buy PCs built on more-profitable Pentium IIs, and it's those chips the company is heavily advertising on TV. Celeron chips, by contrast, get no TV spots and are promoted only via local newspaper ads on Fridays and Sundays. It's no wonder Intel pushes the Pentium II. Those chips will contribute 56% of the company's processor revenues this year--fueled by the fact that Pentium IIs are used in 97% of all PCs priced over $1,500, according to researcher Dataquest Inc. Intel has no intention of losing that franchise: In 1999, it will roll out zippier Pentium II chips that also include new features for speeding up 3-D graphics.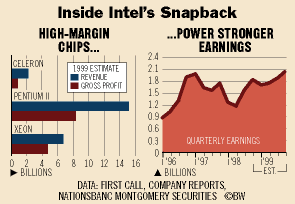 OVERSEAS OPENING. Intel's plans for Xeon are no less ambitious. The company will debut faster models--offering speeds of over 600 megahertz--throughout 1999, in a bid to continue gaining market share in servers and workstations. International Data Corp. says Intel already has nearly 100% unit share in servers costing $10,000 and below. By 2002, it will have captured a majority of servers priced up to $100,000, according to IDC.
Then there's the global market. AMD and National have given up international market share to gain business in the higher-profile U.S. market. That has opened the field to Intel, which has beefed up overseas marketing in places such as China and Latin America--reaping big sales gains around the globe. With PC growth in emerging markets expected to outpace domestic growth by 14% in 1999, Intel stands to profit handsomely. If the Chengdu computer fair is any indication, Intel still has a lot of gold to mine from PC processors.