Sprint: Sauntering After Earthlink?
By
Riding high among the sizzling Yahoos and AOLs of the world, EarthLink Network (ELNK), a little-known Internet stock, may soon attract huge investor attention.
This second-largest independent provider of sophisticated Internet services (America Online is No. 1 ) is behaving like a superstock: It's up 318% so far this year, compared with 295% for AOL, 476% for Yahoo!, and 566% for Amazon.com. Several bulls think EarthLink will charge higher still: Sprint, the No. 3 U.S. long-distance company and a top carrier of global Internet traffic, may opt to acquire EarthLink, of which it already owns 29%.
Robin West, who steers $1.5 billion at the New Mexico State Investment Council, says: "It's not a question of whether Sprint will buy the rest, but when." The longer Sprint waits, she adds, the more it will have to shell out. At EarthLink's current price of 56, its market cap is about $2 billion, based on fully diluted 36.7 million shares. In June, the two companies formed EarthLink Sprint Internet Service. Sprint Chairman and CEO William Esrey said at the time that EarthLink was the "perfect Internet-access parTner for Sprint."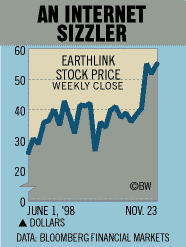 What will the takeout price be? West figures that AOL, which is currently acquiring Netscape Communications, values subscribers one to two years out at $1,200 apiece. Based on EarthLink's projected subscriber count of 4 million in two years, West calculates the company is wortH $4.8 billion, or $120 a share. "That's inexpensive," she adds. EarthLink was highlighted earlier in this column (BW--Sept. 7, 1997), when it was trading at a split-adjusted 6 1/2 a share.
Andrea Grosz, Internet maven at Everen Securities, also thinks Sprint "will ultimately own 100% of EarthLink, paying "a rich premium" for the remaining 71%. One reason: EarthLink's subscriber list is growing faster than that of any other Net provider, including AT&T, MCI WorldCom, and the regional Bells. Moreover, she says, there are few large providers up for grabs.
An EarthLink spokeswoman notes that a standstill pact signed in February bars Sprint from buying EarthLink for 39 months. But some pros argue that Sprint could opt to break the agreement.