Canada: With Rates Down, Things Are Looking Up
by
The Canadian economy may have dodged a bullet--with help from the Federal Reserve. After boosting its overnight rate by a full percentage point on Aug. 27 in defense of the sagging Canadian dollar, the Bank of Canada (BOC) calmed recession worries on Nov. 18, when it cut rates by a quarter point for the third time in seven weeks. The easing moves came in lockstep with Fed actions, and at little cost to Canada's bruised currency.
Before the Aug. 27 hike, Canada's policy rate stood at 5%, vs. 5 1/4% in the U.S. The disparity caused currency speculators to swoop down on the loonie, driving it to a record low near 63 cents U.S. Now, with Canadian rates at 5 1/4% vs. 4 3/4% in the U.S., the loonie is better supported, at 64.5 cents on Nov. 24. The Canadian rates also are more conducive to growth.
To be sure, the Canadian economy faces a slowdown. The BOC said as much in its semiannual monetary policy report on Nov. 16, when it revised its May forecast of 3 1/2% growth in 1999 down to a range of 2 1/4%-3 1/4%. That's still high compared with most private forecasts, which generally expect growth of about 2%. The economy expanded at an annual rate of 2.6% in the first half of 1998.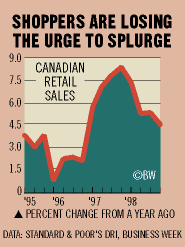 Recent data are mixed. September retail sales looked firm, but growth is slowing (chart). And in manufacturing, the latest Business Conditions Survey shows weaker employment, skimpier unfilled orders, and excessive inventories. In construction, building permits are down from a year ago.
However, a recession is now unlikely, unless U.S. growth slips sharply or commodity prices plunge anew. BOC Governor Gordon Thiessen is betting that solid, if slower, U.S. demand will offset weak Asian demand and commodity prices, which are down 15% in the past year. The U.S. is the destination of 80% of Canadian exports, and a third of its merchandise exports are commodities. Also, as commodity prices bottom out, the Canadian dollar should strengthen. But most important, lower rates boost the chances of continued growth.
Before it's here, it's on the Bloomberg Terminal.
LEARN MORE