Biomira's Assault On Cancer
By
With a market cap of just $100 million, Biomira (BIOMF) isn't on big investors' screens. But some pros find the stock compelling: The company is developing a vaccine, called Theratope, to battle breast cancer. And biotech leader Chiron is Biomira's partner in producing the vaccine.
The Food & Drug Administration has approved Phase III clinical trials for Theratope, and Biomira will soon announce the enrollment of patients for the trials--at 70 sites in the U.S. and Europe--to evaluate the vaccine's effectiveness in treating metastatic breast cancer in patients who have already undergone chemotherapy.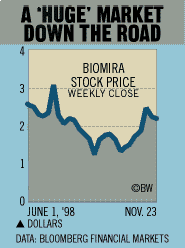 Karen Boezi of Coral Ventures, which owns about 1 million shares
of Biomira, says Chiron's holding a stake in Theratope adds validity to the undertaking. As results from the trials emerge, Biomira shares, now at 2 1/4, should surge. The market for the vaccine, says Boezi, is "huge."
Trials will take 18 months, and the first submission for FDA review is planned six months after enrolling all 900 patients. The Biomira-Chiron pact gives Chiron exclusive marketing rights in the U.S., Japan, Australia, and European countries. In addition, Biomira has rights to Canada and countries in Asia and the Mideast.