As Business Picks Up The Pieces...Critics Blast Pretoria's Blunder
As looters rampaged through the Lesotho capital of Maseru on Sept. 22, Thabang Nyeoe confronted a tough choice. Should he try to save what he could from his men's boutique, or seek refuge from the mayhem? He decided not to give in. While the mobs turned nearby shops into ruins, Nyeoe grabbed shirts from shelves and pants from racks. He threw everything into a pickup and fled for home, fearing attack all the while. "It was a very scary time," Nyeoe recalls.
Times are still scary for people doing business in Lesotho, a mountainous country of 2 million. Even though Maseru has quieted down since a South African military incursion aimed at quashing an army mutiny erupted into chaos, uncertainty rules. Business owners don't know where they'll get money to rebuild. Idled workers worry that damaged stores and factories won't reopen. "Investor confidence has been greatly eroded and the economy ruined," says Mamello Morrison, spokeswoman for a Lesotho opposition alliance.
SHRINKING. Hardship, of course, is nothing new to Lesotho, which has a per capita income of just $660. It's true that economic growth has averaged 10% from 1995 to '97, but after the turmoil it's expected to shrink by nearly that amount this year. The mainstays of the economy are agriculture, light manufacturing, and money sent home from migrant workers in South Africa. Lesotho had attracted some foreign investment, but the nation's isolation and tiny domestic market have long been a constraint.
For now, this bleak picture is even bleaker. After the South African incursion, an uneasy calm was restored within days, but as many as 100 people died in the fighting. The Maseru Chamber of Commerce says businesses suffered $47.3 million in losses. An estimated 4,000 people were thrown out of work. In Maseru and other cities, damaged businesses including hotels, restaurants, grocery stores, and retail outlets are hoping insurers will cover their claims. But only 21% of Maseru businesses even have coverage.
So aside from the immediate woes--charred storefronts, higher food prices, and fewer people able to buy anything beyond necessities in a country with 40% unemployment--business is looking for a way to breathe life back into the economy. Pleas for assistance from South Africa were rebuffed, but Pretoria does deserve credit for recently brokering agreements between the ruling Lesotho Congress Party and opposition forces to hold special elections within 18 months. That adds to hopes for stability. And many businesspeople refuse to abandon Lesotho. "Working here is high-risk, high-opportunity," says Pat Niland, manager of P.B. Jandrell & Son, a company that supplies building materials and owns hardware stores, a supermarket, and a furniture store in Maseru. Ironically, the rebuilding process could be a boon to companies like his. But for others, the question is whether the opportunities are worth the risks.
South African officials from Nelson Mandela on down bristle at criticism of the military operation. They say it was necessary to restore stability after months of disturbances by opposition groups claiming that May elections were rigged. "It was obvious that a dangerous situation was developing which could explode, resulting in serious consequences for Lesotho and South Africa," Foreign Affairs Deputy Minister Aziz Pahad told Parliament on Nov. 3.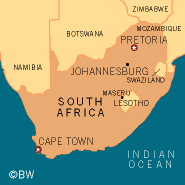 Nevertheless, analysts and even a few high-level South African military officers castigate the mission as ill-conceived, badly executed, and rife with intelligence failures. Some see it as an example of problems facing South Africa because of enmity between apartheid-era holdovers and Mandela loyalists now serving together in the military and intelligence services. But even as South African and Botswanan troops patrol in armored vehicles--with no end in sight to their presence in Lesotho--some local businesspeople find in the debacle a perverse reason for optimism. "After what happened, South Africa will not make this kind of mistake again," says Steve Buys, a South African who works as an attorney and property developer in Maseru. For Lesotho's sake, let's hope not.
Before it's here, it's on the Bloomberg Terminal.
LEARN MORE