business
Mort Zuckerman: Sweetheart, Get Me Rewrite
His media empire is not having a good year
By
Mortimer B. Zuckerman is known as a perpetual-motion mogul who glides easily among the worlds of real estate, finance, publishing, and punditry. But even for him, it has been an unusually hectic year. In June, for the sixth time in the 14 years he has owned the weekly news magazine U.S. News & World Report, he replaced the editor. On Nov. 13, in his latest bid to boost the fortunes of his New York City tabloid, the Daily News, Zuckerman hustled in a new Sunday editor. And a Moscow tabloid, launched in May with his backing, is on its last legs amid Russia's economic crisis. "The effective revenues went down when people had to choose between newspapers and bread," Zuckerman says glumly.
But Zuckerman's most pressing problem has been at Applied Graphics Technologies Inc.--the company that he and his partner, Fred Drasner, took public in 1996--which manages the preparation of digital images for advertisers and publishers (including The McGraw-Hill Companies, publisher of BUSINESS WEEK). Stock in fast-growing AGT rocketed from an initial public offering price of 12 a share to 62 in October, 1997. Then it surprised investors with an earnings warning in October and saw its stock plummet to 7. That nearly vaporized Zuckerman's 22% stake, sending it from $309 million to $35 million.
ON HOLD. AGT's tumble is only the most pressing of several challenges to Zuckerman's master strategy. To further tap the surging equity markets, he had intended to take two more companies public--his media holdings and a company that prints glossy items such as brochures and calendars. Today's dicey IPO market and competitive threats to his media empire are putting those plans on hold.
Zuckerman isn't feeling too much pain from his paper losses, though. More than a year ago, he and Drasner shrewdly sold a chunk of AGT shares, at $43 apiece, tucking away a total of $140 million. Zuckerman also holds $165 million worth of stock in Snyder Communications Inc., a direct marketing business they helped start. And his chief asset remains his $270 million stake in Boston Properties Inc., the thriving real estate company he co-founded 28 years ago and took public last year. Says Zuckerman: "My net worth is now down to a level I never thought I'd get up to."
Which isn't to say the meltdown at AGT is being taken lightly. Last month Drasner resigned as head of the magazine group--encompassing U.S. News, The Atlantic Monthly, and Fast Company--and parachuted in to run AGT day to day. The pre-press company had been clocking 25% profit growth, largely by sewing up outsourcing contracts with publishers and other companies. But Devon Group Inc., a competitor it acquired in February, fell short of targets. At the same time, AGT's pipeline of new contracts dried up. Drasner says management suffered from "victory lap syndrome" but insists that the situation is now under control and growth rates will be restored. So far, the stock has recovered slightly, to 14. Still, analyst Robert P. Curran at Merrill Lynch & Co. warns of a "credibility problem, and it'll take time for that to be rebuilt."
NOT IMMUNE. Meanwhile, in real estate--where Zuckerman says he is having his best year ever--Boston Properties' stock has been under pressure. The real estate investment trust owns 116 office properties concentrated in the Northeast and San Francisco, totaling 21.5 million square feet. The REIT went public in June, 1997, at 25 and reached as high as 37, but has fallen back to 30. While the stock is down 9% this year, that's a far better showing than the Morgan Stanley REIT Index, which is off 17% (chart). Why? Analysts praise Boston Properties' portfolio, which includes the recent purchase of San Francisco's Embarcadero Center, and for developing properties, such as the two sites it recently scooped up in New York's Times Square.
Still, the company isn't immune to fears that the real estate market has peaked. "Boston Properties has significant exposure to the financial services industry," notes analyst David Kostin of Goldman, Sachs & Co. And it is heavily skewed to the fortunes of New York City, where three towers account for 43% of its annualized income.
New York's prosperity has also been key to the Daily News. But the six-year-old investment will need more to pay off. Zuckerman says the paper is profitable but having only an "average" year. One reason: the two-year-old assault on the Sunday edition by its smaller rival, the New York Post, owned by Rupert Murdoch. Sales are down from 952,000 before the Sunday Post was launched with a mere 25 cents cover price vs. $1.50 for the News; in the six months ended Sept. 30, the Sunday News sold an average of 810,000 copies, says the Audit Bureau of Circulations Inc. (The Post reported Sunday circulation of 382,000 and now sells for 50 cents, vs. the News's $1.) Zuckerman and Drasner don't release financial results but say circulation is now rising.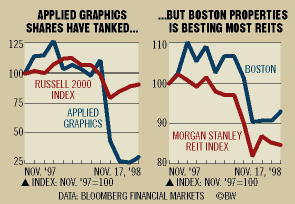 Whether they can ever take their media holdings public will depend on deriving steady, growing profits from the News, says newspaper analyst John Morton of Morton Research Inc. "Obviously, Murdoch's starting a Sunday paper has hurt them," he says. So Zuckerman has tapped veteran editor Edward A. Kosner to oversee the edition of the paper that accounts for 40% of its overall revenues. But instead of reporting to Daily News Editor-in-Chief Debby Krenek, Kosner reports to Zuckerman's editorial chieftain, Harold M. Evans. This has fueled speculation that Krenek will be the latest in Zuckerman's coterie of departing editors. Zuckerman denies this.
And true to form, he is relentlessly upbeat despite the new pressures facing him, especially at his public companies. "You have to recognize that you don't own the assets anymore, you own stock in that company," he says. "You're on a different kind of treadmill." And, as he found with AGT, the treadmill can occasionally come to a jolting stop.
Before it's here, it's on the Bloomberg Terminal.
LEARN MORE