U.S.: The Earnings Slump Isn't Going Away
To cope, companies will cut back on hiring and capital spending
by
Let's face it: The earnings performance of Corporate America has been dreadful since late 1997, and the reasons owe as much to homegrown conditions as to a poor foreign climate. Even though the U.S. economy grew a solid 3.4% during the past year, profits fell 4%, according to BUSINESS WEEK's third-quarter tally. Now, the economy is set to slow, perhaps sharply. Do you really believe those stock analysts' projections of 5%-to-10% earnings growth for 1999?
The latest reports from the labor markets on October job growth and third-quarter productivity offer two powerful reasons to be wary of such rosy profit forecasts. First, job growth is slowing, a key sign that overall economic growth is shifting down a notch (chart). That means less top-line revenue growth.
Second, margins are getting squeezed. Despite good productivity gains, the pace is insufficient to offset the acceleration in labor costs--at a time when many companies cannot raise prices. These two conditions will not be changing for the better anytime soon. Until they do, profits will continue to suffer.
POOR PROFITS will affect the overall outlook for 1999 in a number of ways. Disappointing earnings could rattle the stock market again, with fallout for companies and households. Consider that the Dow Jones industrial average rose from 7500 in late 1997 to 9300 in July, while profits went nowhere. Now, even though third-quarter profits declined, the major indexes are back within striking distance of their July highs.
Some stock market analysts believe those lofty levels are justified, arguing that equity prices already reflect expectations of weaker profits, along with an earnings rebound in 1999. However, given the pressures from slower economic growth, weak pricing, and higher labor costs, those expectations may be too optimistic.
One sure bet, however, is that sagging profits will limit capital spending. In the third quarter, the gap between corporations' investment outlays and their internally generated funds, mainly cash flow, was the widest since the early 1980s. Companies had been able to bridge that gap with cheap equity financing and credit. Now, financial conditions are generally tighter, leaving no alternative to shrinking cash flow.
Most important, weak earnings will ultimately dampen consumer spending, as companies cut labor costs. To see why, look at the reason behind shrinking profit margins, illustrated by the steep drop in the ratio of prices to unit labor costs among nonfarm businesses (chart). A year ago, prices in this sector were growing 2% yearly, with unit labor costs rising 1.7%. Now, price growth has slid to only 0.6%, while the pace of unit costs has sped up to 2.6%. This widening gap must reverse before margin erosion can end.
What can ease this tightening vise on margins? Either prices have to grow faster, productivity has to accelerate beyond its already excellent 1.7% pace of the past year, or companies will have to rein in the growth of wages and benefits. You can strike off faster prices and productivity: International pressure on prices will remain heavy, and productivity growth typically slows as output growth slows. That leaves cost-cutting--i.e., layoffs--as the most likely course.
THE OCTOBER EMPLOYMENT REPORT, mistakenly released a day early, suggests that the pruning has already started. Payrolls increased a less-than-expected 116,000 last month. September payroll gains were revised higher, to 157,000 from 69,000, but that was still below the original expectation. Since July, total payroll gains have averaged 178,000 per month, down from 244,000 in the first half.
Until recently, this slowdown in job growth had been confined to manufacturing, which continues to absorb the brunt of the foreign-trade impacts stemming from the Asian crisis. Adjusted for the strike at General Motors Corp., factory payrolls have declined for seven months in a row, and the October drop of 52,000 was the largest of the year. As a result, industrial production is sure to be weak again in the fourth quarter, after posting no growth in the third quarter.
But in recent months, the payroll slowdown has broadened. In October, the breadth of job gains was the narrowest in nearly three years. Even among private-sector service companies, which had been so resilient, job growth has cooled a bit. So far in the second half, job gains in nongovernment services have averaged only 170,000 per month, down from 203,000 per month in the first half. Excluding strike activity, that's the slowest four-month pace in 2 1/2 years.
BUSINESSES ARE LIKELY to keep hiring on a leash as long as cost pressures keep building. The Labor Dept. reported that productivity, measured as output per hour worked, rose at a healthy 2.3% annual rate in the third quarter, lifted by the economy's surprisingly strong 3.3% growth in gross domestic product. At the same time, though, compensation increased at a 4% clip, causing unit labor costs to rise by 1.7%.
Looking at the yearly trend through the third quarter, the growth in unit labor costs, now at 2.6%, has picked up. That's primarily because compensation has accelerated steadily, to 4.4%, and productivity's four-quarter pace has fallen back to 1.7%, after briefly rising above 2% earlier this year. History shows that productivity cycles up and down with output growth. So, as the economic slowdown develops, businesses will have few weapons other than workforce reductions in their battle to beef up their bottom lines.
Wage growth does appear to have stopped accelerating, but labor markets will have to loosen substantially before wages slow to the point where margins can start to recover. Average hourly earnings of production workers barely rose in October, and the yearly pace has slowed not only in manufacturing but among service-producing industries (chart). Still, pay is growing at close to 4%, and adjusting for inflation, real wages are out of line with productivity growth.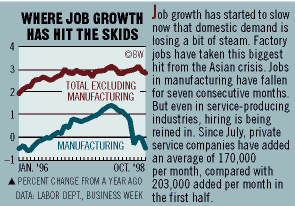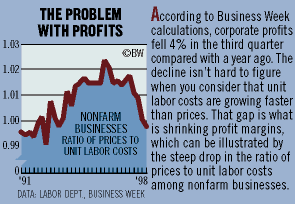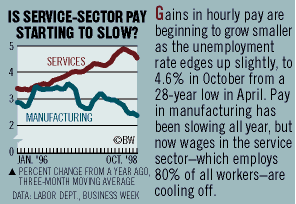 A slowing in service-sector pay is the key, since service businesses employ 80% of all workers. And in recent months, pay gains in services have eased back a bit, as the unemployment rate has ticked up. Joblessness, which held steady at 4.6% in October, has gradually drifted up from its 28-year low of 4.3% in April. And given the recent spate of layoff announcements, as companies try to slash costs, the rate is sure to edge higher in the months ahead.
However, the return to healthier profits will be an uphill battle for many corporations. Back when labor was cheap, plentiful, and docile, posting double-digit earnings gains year after year was easy, even in a low-inflation climate. Now, the continued lack of pricing power amid tight labor markets has Corporate America in a box--and it may take a long time to get out.
Before it's here, it's on the Bloomberg Terminal.
LEARN MORE