Tops With The Shortbusters
by
The shortbusters are back--the ShortBusters Club, that is. Founded in 1990 by maverick money pro Ray Dirks, the ShortBusters have dueled with such daring short-sellers as the Fesbach Brothers group, by recommending and buying up shares that the Fesbachs were shorting. After lying low for years, the ShortBusters are back in business, says Dirks--with so many stocks "under siege, in many cases unfairly and unjustifiably."
Heading the list of heavily shorted stocks that Dirks's crew is defending: Organogenesis (ORG), which plummeted from 37 in late April to 12 5/8, and Hemispherx BioPharma (HEB), which fell from 12 1/2 on Sept. 9 to 5 on Sept. 25. Hemispherx is now back above 8.
Both stocks have been featured in this magazine. Organogenesis was mentioned on Aug. 5, 1996, and Hemispherx was highlighted in this column on Sept. 28, 1998, when it was reported that the shorts called its lead product, Ampligen, unsafe and defective. "They're wrong," says Dirks.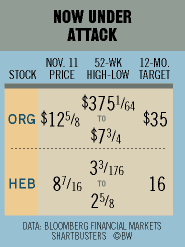 Demand for its Apligraf, a human skin equivalent, has been strong, and orders are up, with more expected. Dirks says Hemispherx is within two years of commercializing a new class of drugs for chronic viral disorders. And Ampligen is in Phase 3 of clinical trials for the treatment of chronic fatigue syndrome, with patients paying the cost of the drug. Says Dirks: "If the drug was unsafe, the FDA wouldn't have permitted its use in this manner." Hemispherx, he says, aims to develop an oral version of Ampligen, called Oragen, as well as other products for treating viral, immune deficiency, and cancerous conditions.
Whether or not the ShortBusters will be able to rescue these stocks remains to be seen. Meanwhile, the battle is on.
Before it's here, it's on the Bloomberg Terminal.
LEARN MORE