The Trade Talk Gets Ugly
Can Clinton resist fighting fire with fire?
Paul Magnusson
When leaders of the 18-nation Asia-Pacific Economic Cooperation forum meet on Nov. 17 in Kuala Lumpur, they'll have more than the region's financial woes on their agenda. Delegates are increasingly worried that the world may be pulling back from free trade just when the floundering economies of Asia most need access to open markets. Such a shift would also threaten the still-healthy economies of North America and Europe, leading to the first global trade contraction since the 1930's.
Big trade confabs always pulse with warnings of trade wars, partly as a spur to negotiators. But this time the signs of rising proTectionism may be real. In Washington, President Clinton faces pressure from U.S. steelmakers to stem a flood of steel imports. Long-running transatlantic spats over agricultural imports and trade sanctions are escalating. Meanwhile, China and Japan are backing away from promised reforms.
Pre-summit APEC meetings have left free trade advocates dispirited. And with Malaysian leader Mahathir Mohamad rushing to regulate capital flows, there's a lack of host country support for a trade agreement. "The world fiscal crisis is now metamorphosing into a trade crisis," says David L. Aaron, the Commerce Dept.'s top trade official. "Countries are backtracking," agrees Kim Kihwan, South Korea's economic affairs ambassador.
The biggest threat to open trade is the need for Asian economies to export their way out of a morass of debt. World leaders agree that exporting will help--but where the exports should go is the big question. To curb unemployment in Europe, its leaders have maintained barriers against the Asian tide. That has diverted a disproportionate share of Asia's exports to the U.S. China's surplus with the U.S. will approach $60 billion this year, up from $50 billion in 1997. Europe limited the Chinese surplus to just $5 billion.
That lopsided situation is provoking transatlantic tensions. "We alone cannot absorb all of Asia's imports," says Commerce Secretary William M. Daley. Meanwhile, an angry Europe accuses the U.S. of using trade sanctions as a foreign-policy wedge that halts European investment in Iran, Libya, and Cuba. "It is time to outlaw such unilateralism," insists Frederic Jenny, a French trade official. As if to prove his point, Washington threatened the European Union on Nov. 10 with 100% tariffs on champagne and cheese in retaliation for European quotas on U.S. bananas.
None of this was anticipated a year ago when the APEC summit was planned. Trade ministers from 21 nations were supposed to sign market-opening deals in everything from telecommunications to fish to jewelry, aimed at generating some $1.5 trillion in trade. But the trouble in such economies as Korea and the Philippines combined with Japanese foot-dragging may halt any trade opening. Indeed, U.S. negotiators fume that Japan's refusal to lower its 6% tariffs on imported fish "is torpedoing the APEC talks."
CRYING GAME. Instead, delegates will be worrying about the growing asymmetry in global commerce, with the U.S. fast becoming the buyer of last resort. As goods have poured into the U.S., external debt has surged to $1.3 trillion, or 15% of GDP, and could grow to 20% within two years. The U.S. deficit in goods and services is expected to jump from a record $160 billion this year to $300 billion in 1999, or 2.8% of gross domestic product. "A striking figure," says Deputy Treasury Secretary Lawrence Summers.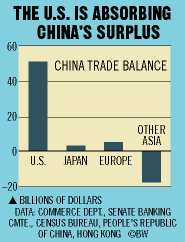 Already, the U.S. steel industry is crying for relief, pointing to a 78% increase in imported steel through August. On Nov. 10, Clinton promised a group of chief executives that he'll raise the steel problem at APEC. "We will insist that our key trading partners play by the rules," Clinton vowed. But taking up the cause of U.S. steelmakers won't help Clinton make the case for keeping global commerce growing. "I don't think it's healthy to watch our steel industry go under, but we have got to balance that against the benefits to the American consumer" of free trade, worries Dana G. Mead, chairman and CEO of Tenneco Inc. Clinton's challenge is to beat back the protectionist fires raging everywhere--particularly those at home.
Before it's here, it's on the Bloomberg Terminal.
LEARN MORE