Report Card On Asia
by and
Amid the rubble of a cataclysmic year, Asia's economies are finally showing signs of life. At the Chow Tai Fook jewelry store in Hong Kong's Central district, where sales have languished for months, customers are back, snapping up gold and diamonds. The main streets of Seoul, nearly deserted in January, hum with traffic. On weekend nights, revelers throng the dance floor of Jamz, Jakarta's hippest disco.
A full-fledged recovery in Asia is still many months away, as output continues to contract and layoffs, bankruptcies, and political tensions rise. But barring any more big shocks to the world financial system, there is clear evidence that the region's harrowing economic free fall is nearing bottom. Asian currencies have stabilized, foreign reserves have swelled, interest rates are down, and foreign hedge funds have stopped attacking. And from Seoul to Jakarta, reforms of deeply flawed financial and political systems are more or less under way.
As a result, foreign and Asian investors alike are slowly starting to feel that it is safe to hold local currencies and put some money in regional bourses, which have risen sharply in the past two months. For the first time since July, 1997, Asia's limping Tigers see a ray of hope.
But how far away are the region's economies from a real recovery? And which countries have done the best job of positioning themselves for sustainable growth? To answer these questions, BUSINESS WEEK reporters across the region conducted dozens of interviews and analyzed reams of data. The result is our Asian Report Card, which grades countries on how well they are implementing critical reforms. We look beyond the upticks in Asia's markets to measure progress in bank recapitalization, corporate restructuring, consumer sentiment, political reform, and openness to foreign investment.
The countries that score best, we believe, will be those that are positioned to attract vital capital at a time of a global credit crunch. It will cost $900 billion just to recapitalize Asia's banks. Vast sums also are needed to revitalize industry. Unlike the frothy days of the early 1990s, competition for capital will be fierce. Japan--Asia's chief cash cow--will remain mired in recession, and Europe will be preoccupied with its own monetary union. And Asia won't be able to rely solely on high domestic savings to fuel growth. Corporations that have streamlined will get their funds and prevail in a world of weak or falling prices. And nations that have made the biggest strides toward democracy and in establishing modern commercial laws will offer the stability and transparency investors demand.
BARELY PASSING. The next six months will be critical in determining the winners and losers. The strongest economies, not surprisingly, are likely to be Taiwan, Hong Kong, and Singapore, none of which entered the Asia crisis with serious fundamental problems. China also is in remarkably good shape, though structural weaknesses put a cloud over its prospects for next year. Of the crisis countries, we give the highest marks to the Philippines and Thailand, which have done the best job of political reform and adhered most closely to painful remedies.
But Asia's overall performance is spotty and varies widely from country to country. We give out few As--and loads of Cs and Ds. That's because even in areas where some nations have made impressive strides--such as financial-sector reform--the job is far from complete. Although each country has set up mechanisms to clean up and recapitalize its banks, for example, the region, including Japan and China, still chafes under some $1.7 trillion in nonperforming loans. Only after this debt overhang clears will banks be able to reignite Asia's real economies by unleashing new credit to the region's exporters and developers.
The task of restructuring the wrecked corporate sector, meanwhile, has barely begun. On this count, we assign C grades to Thailand and South Korea, a D to Indonesia, and an F to Malaysia. True, there have been notable asset sales and mergers. An estimated $60 billion in merger-and-acquisition deals will be completed in 1998. But that's not enough. By and large, Asian corporate chieftains remain unwilling to sell assets for prices that suitors are willing to pay. Many insolvent conglomerates have yet to even agree with creditors on debt-workout programs, a function of weak bankruptcy laws.
Unless Corporate Asia picks up the pace, there is a real danger that a recovery won't hold. Asian industries ranging from automobiles to chemicals to electronics will remain hobbled by inefficiency, overcapacity, and weak prices. In Thailand, 47% of industrial capacity is idle. Multiply that across the region and you get a deflationary environment in which few companies can turn a profit. In the auto sector alone, Southeast Asia is using a paltry 25% of its factory capacity.
The biggest drag on Asia's prospects is Japan. True, Tokyo is finally fessing up to its own problems. A year ago, its mandarins acknowledged $200 billion in bad bank loans. Now, they admit to about $600 billion, though the real figure may surpass $1 trillion. The government has budgeted $500 billion in public funds to take over insolvent banks, inject capital into weaker ones, and cover all depositors.
But the plan doesn't address the problems of lenders that remain less profitable and efficient than their major U.S. and European counterparts. Furthermore, Japan hasn't begun to address the bigger issue of corporate and industrial restructuring. Most job cuts are coming from attrition and limits on new hires. Tougher measures are needed to restore much of Japan Inc. to sustained profitability.
Without a strong contribution from Japan, Asia's walking wounded have to rely on their own resources far more than they would like. Thailand gets a B+ on financial reform for making the most progress in clearing bad debts. Walk into a Bangkok bookstore and you can buy bilingual guides to property for sale at government auctions. Also, Thailand this year has sold off $900 million in finance company loans and other assets to foreign investors, who paid as much as 60% of book value.
Thailand's policymakers also have allowed foreigners to buy stakes in financial institutions. Early this year, for instance, ABN Amro paid $195 million for a 75% stake in Bangkok-based Bank of Asia. With its new capital and management help, Bank of Asia has vastly increased its number of automated-teller machines and is taking aim at its bigger rivals in consumer banking.
Yet one statistic shows how far Thailand still has to go: Nonperforming loans now come to some $45 billion, or 35% of gross domestic product. The chief culprit: the inability of Thailand's biggest companies to work out their problems. While some companies, such as Charoen Pokphand group, one of Thailand's biggest, have been shedding assets all year, others are only just starting to act. Insolvent Sahaviriya Steel Industry, one of the country's biggest steel mills, defaulted on a Eurobond payment over the summer. Thai Petrochemical Industry PLC, which reported losses of $1.7 billion earlier this year, is only now trying to sell some assets and attract foreign partners for capital injections.
South Korea is giving off similarly mixed signals. So far, the government has bundled and sold only $300 million of the $30 billion in bad loans it has assumed from banks at major discounts. And South Korea still has some $100 billion in dud loans to unload. But at least failed institutions are up for sale. Western banks and vulture capitalists are bidding on Seoulbank and Korea First Bank. And because of falling imports, Korea now boasts a record $45 billion in foreign reserves, up from virtually nothing last year. Its current-account surplus will hit $37 billion this year, or 9% of GDP. But that's due to falling imports and capital inflows, not from healthy export trade.
Some major business groups are selling assets. Ssangyong, once the country's sixth-largest chaebol, has virtually liquidated itself, selling off operations to such foreign players as Procter & Gamble and Hambrecht & Quist. But investors are really waiting for the top five chaebol to join the party. So far, their restructuring has been mostly talk. A planned rationalization of the semiconductor industry, for instance, looks unlikely because of bickering between the two main players, LG Semicon and Hyundai Electronics.
Concerns about President Kim Dae Jung's ability to prevail against the top chaebol adversely affect that country's grade. New loans are hard to come by, especially for small to midsize companies. But the banks, preoccupied with maintaining or improving their capital-adequacy ratios, still favor the big chaebol. "There's money to be invested and it [is going] to the top five companies, which are perceived to have low risk," says Bill Hunsaker, head of research at ING Baring Securities Ltd. in Seoul. That fresh credit gives the top companies staying power in their struggle not to restructure.
Politics also plays a big role in determining a country's grade. That is a major reason why the Philippines scores high in BUSINESS WEEK's survey. That's right, the Philippines. One key is the performance of President Joseph E. Estrada. Dismissed by many in business circles as an intellectual lightweight when he came into office in June, Estrada has not deviated from the reform policies of his predecessor, Fidel V. Ramos. He also resisted pressure to help labor unions during their strike against Philippine Airlines Inc. Nor did Estrada bail out his tycoon friend Lucio Tan, the airline's owner. Instead, PAL will need to find foreign investors to get back on its feet.
Now, investors feel more assured that he will move swiftly to contain the crisis if it worsens in his country. And unlike any other Southeast Asian country, the Philippines has enjoyed an increase in exports, with electronics leading the way. Intel Corp. recently announced that it will pump $45 million more into a factory south of Manila. And nonperforming loans total $9 billion, less than a quarter of Thailand's. Developers in other countries are reeling, but Ayala Land, the biggest in the Philippines, has just launched an ambitious new project in suburban Manila. "We must manage our resources well as we gear up for eventual recovery," says Jaime Ysmael, Ayala's vice-president and comptroller.
In Indonesia, in contrast, political instability is severely impeding any hope of recovery. New President B.J. Habibie, who succeeded the toppled strongman Suharto, is tainted by his close association with his predecessor. Until Indonesia holds elections in May, the risk of continued political turmoil--if not anarchy--remains high. That makes it hard for Indonesia to lure back the ethnic Chinese businessmen and billions in capital that fled the country after this spring's riots.
That said, Habibie is making some progress toward reforming the decimated economy. His administration has recently sped up efforts to restructure the debt-laden corporate sector. Big conglomerates such as the Salim Group and PT Astra have recently reached deals with their banks and have been shedding assets. Jakarta also deserves credit for amending archaic bankruptcy laws, giving creditors a powerful tool to force debtors to negotiate in good faith.
"INSOLVENT." But the task ahead is mind-numbing. "Every bank in the country is insolvent," says the head of a leading Wall Street M&A practice. Half of the 54 Indonesian banks that have been nationalized are late in furnishing plans to repay the $18 billion they owe the government. Jakarta has opened its banking sector to 100% foreign ownership. But offshore banks prefer to hunt in Thailand and Korea due to political worries.
No country has done more to wound itself through bad policy than Malaysia. Prime Minister Mahathir Mohamad has cut the country off from the world's capital markets and stifled reform by jailing his former Deputy Prime Minister, Anwar Ibrahim. And he's making the country's debt burden, already some 170% of GDP, even heavier. The banking system needs $16 billion to recapitalize. Yet the Malaysian central bank is actually encouraging banks to make more loans to developers, even though Kuala Lumpur's skyline is dotted with half-empty office towers erected during the bubble. New rules also make it easier for Malaysia's banks to delay reporting loans that have just soured.
Malaysia scores poorly in corporate restructuring, where bailouts are still the rule. Last month, state oil monopoly Petronas was looking into injecting over $340 million into auto maker Proton, a Mahathir favorite. Construction giant Renong, another member of Mahathir's elite, has asked the government to assume $2.76 billion of its debt by forcing creditors to accept government zero-coupon bonds.
The woes of the weaker nations will drag down the potential high performers despite their best efforts. Banks in Singapore, for example, quickly faced reality, provisioning for bad loans and seeking merger partners. But there's only so much the nation can do: Some 15% of its bank loans, or $23 billion, are extended to Malaysia, Indonesia, Thailand, and South Korea.
Hong Kong cannot escape, either. Consumer confidence has evaporated, with devastating effect on retailers. "It is hard to imagine retail sales increasing," says a glum Peter Lau, chairman of regional clothing chain Giordano International Ltd., which has stores across the region. A sign of the times: PricewaterhouseCoopers has expanded its liquidation-and-workout practice in Asia fourfold, to 80 people this year. "There is no inflow of capital to rescue these businesses," says Chris J. Barlow, head of financial advisory services.
China is the biggest wild card of all. At first glance, its economic indicators look healthy. Premier Zhu Rongji is pushing hard to reach his target of 8% growth this year through massive state investment to stimulate the economy. He is also moving forcefully to crack down on errant financial institutions, putting on record that Beijing will not bail out every loser. But by some estimates, China still has $250 billion in bad loans. As Zhu opens the credit spigots, he risks weakening banks further.
Also worrisome is China's massive overcapacity. Inventories of unsold goods are estimated at $500 billion, 55% of GDP. Cheap Asian imports threaten to make the capacity overhang even greater, especially since Beijing is determined not to devalue the Chinese currency. If he does, today's currency stability across Asia could crumble.
KEEP IT UP. Taken together, these report cards do offer some hope for investors--but only for some. Thus far, Asia is finally showing that it can halt the immediate slide. The challenge for the coming year is to make sure that a recovery is sustainable.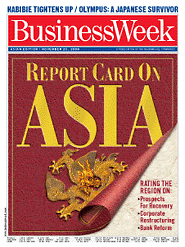 The Asian Tigers that get the highest marks next year will be those that finish the job of reform. If governments concentrate on making their financial systems strong and their corporate sectors efficient, they'll stand a good chance of coming out of the crisis in healthy shape to compete in the 21st century.
But countries that go for short-term remedies to induce recovery could emerge with basically the same old systems in place--and still hobbled by bad debts and weak companies. They could well look like today's Japan, with stagnant growth and deep regrets of missed opportunities. Staying with the reform program can be painful. But those that do will lead the pack in the new Asia.
Before it's here, it's on the Bloomberg Terminal.
LEARN MORE