Olympus: A Blue Chip That's Not Singing The Blues
Its medical and digital cameras have kept it in the pink
Miki Tanikawa
It's time for half-year profit announcements in Japan, and bad news is pouring out of the blue-chip corporations. With such titans as Sony, Matsushita, and Hitachi reporting dreadful results, no company, it seems, is safe from Japan's recession.
Well, not quite. At least one company is safe--and doing quite nicely, thank you very much. It's Olympus Optical Co., the maker of cameras and medical equipment. Profits will probably grow 18% this year, to $90 million, on sales of $3.2 billion. The stock is up more than 50% from last November. In short, Olympus looks like one of those wonderful Japanese companies from the good old days.
GOOD FORTUNE. Olympus planted the seeds of its current good fortune in the 1950s, when it started the long climb up to be a world-class camera maker. It invested massively in research and development. Along the way it developed the world's first miniature cameras for use in hospital examining rooms. Since then, it has been a big developer of endoscopes, which surgeons use to explore the body's interior and take tissue samples. Such equipment makes up 45% of sales--and almost 80% of profits.
This dominance gives Olympus a lot of pricing power. Margins on its flexible endoscope, which is introduced via the mouth, reach 22%, figures Kimihide Takano, an analyst at Dresdner Kleinwort Benson Securities in Tokyo. And the company is rapidly building share in the rigid endoscope, which is inserted through a small incision into the body. Rigid endoscopes can save patients and hospitals the huge costs involved with serious exploratory surgery.
Olympus Chief Executive and President Masatoshi Kishimoto, a veteran salesman from the medical division, thinks he can take the technology even further. Imagine this: Wearing a face-mounted display, the doctor manipulates handles in front of him to move surgical tools attached to the endoscope inside a patient. That way, he conducts an actual operation inside the body--without massive incisions.
But Olympus does not just have physicians as customers. Kishimoto also has been consolidating his lead in high-pixel digital cameras, where Olympus has chalked up a top global share of around 25%. "There are probably just one or two companies [including Olympus] that are in the black in this business," he says. But some analysts question whether Olympus can sustain its edge in cameras for long. "The question is: Is there something that Olympus has that others don't?" asks Ikuo Matsuhashi, analyst at Nomura Securities Co. "I don't think so."
Kishimoto asserts that Olympus' position as a traditional camera maker gives it a unique advantage: Its background predisposed it to focus on pixel density to boost picture quality--and charge a high price. Electronics makers such as Casio Computer Co. and Sanyo Electric Co. tried to cram functions into the camera and notch up pixel density while keeping the price below $300. But they lost out to Olympus in the battle for quality and brand image.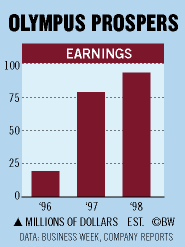 The success of the digital camera is leading Olympus into new products: a face-mounted visual display, called Eye-Trek, that tricks the wearer into thinking he is watching a 62-inch TV screen; Voice-Trek, a portable recorder that converts spoken words into text; and Scan Talk, which transfers sound onto paper in the form of tiny "megadots," then plays it back by scanning the dots with a pen-size bar-code reader.
Clever, but costly, too--and Sony Corp. and Panasonic are mighty powerful in these areas. "Olympus would be a really great company if it focused just on endoscopes," says Nomura's Matsuhashi. Maybe Olympus will need someday to focus on its medical business alone. But for now, its winning product range is giving Corporate Japan something to cheer about.
Before it's here, it's on the Bloomberg Terminal.
LEARN MORE