Monetary Policy: Local Rate Cuts Will Yield Global Benefits
Since Sept. 29, when the U.S. Federal Reserve launched its first of two interest-rate cuts, monetary policy around the world has taken a decidedly easier stance (table). Even countries that have not cut rates should benefit.
The cuts are not part of a coordinated global strategy. Germany's Bundesbank remains on the sidelines as Europe prepares for the launch of the euro. And the central banks that have moved did so for disparate reasons. The U.S. wants to calm the financial markets. Britain is trying to stave off recession. Policymakers in Ireland, Portugal, and Spain are easing in order to converge their rates with those of other euro-zone banks.
The lack of inflation worries gives central banks the room to cut. And cheaper borrowing costs will help the global outlook because lower rates should lift overall economic growth and lessen pressure on some emerging nations to devalue their currencies. In addition, with yields in the industrial nations falling, investors seeking higher returns may reenter emerging markets sooner than if rates had held steady. An influx of foreign funds will help to stabilize the currencies and markets of Asia and Latin America.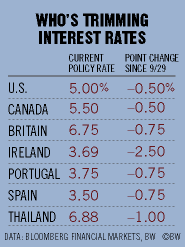 Clearly, many emerging nations still need to overhaul their financial and banking systems. But steadier financial flows will allow the central banks in those countries to cut their own sky-high interest rates. Already, Colombia has cut reserve requirements to free up cash for Christmas gift-giving. And Malaysia has trimmed rates to encourage bank lending.
Speaking in Philadelphia on Nov. 6, International Monetary Fund Managing Director Michel Camdessus said that the recent rate cuts help to reduce the risk of a global recession, adding that these "policy steps have improved prospects for sustaining growth." The IMF is forecasting world output to grow 2.5% in 1999, after a 2% gain this year. One reason for the small pickup is that the IMF sees some hints that Asia is finally bottoming out. Lower rates simply help Asia's prospects.