Lynx Is Poised For A Leap
by
When a small outfit signs a deal with a blue-chip giant, the stock of the small one usually takes a jump. But that's not what happened to Lynx Therapeutics (LYNX): Its shares hardly budged from 10 3/8 on Nov. 5, when it announced an agreement to provide DuPont exclusive access to its technologies for developing new varieties of corn, soybeans, wheat, and rice. The next day, Lynx slid from 10 1/4 to 9 7/8.
No matter, says Stanley Morten, chief operating officer at New York investment bank Punk, Ziegel. "The Street just doesn't get it." Morten says that the $60 million DuPont pact signals that Lynx's technology is ready for commercialization--and further alliances.
Punk, Ziegel analyst Paul Boni thinks that another pact, with a big European drugmaker, will be signed soon--which will provide an "additional catalyst" for the stock, he says. One investment banker reports there is speculation that Britain's Glaxo Wellcome and Switzerland's Novartis are interested.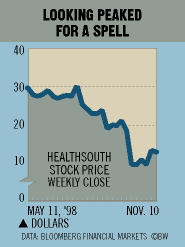 Lynx's technology is a new way to clone and handle gene fragments--"[perhaps] the greatest breakthrough in gene analysis technology since the 1960s," says Boni. It makes possible the rapid and simultaneous analysis of millions of DNA molecules. The technology has uses in genomics, such as gene sequencing, diagnostics, and polymorphism detection. The DuPont deal includes creation of genome maps to aid crop improvement. Hambrecht & Quist's Rachel Leheny, also a Lynx bull, says the technology has the "power to revolutionize the discovery of genes and gene functions."
Boni expects the company will move into the black in 2000, when he sees earnings of 62 cents a share. With more than $25 million in cash on its balance sheet and a market cap of just $100 million, "Lynx remains an excellent value in the genomics group," says Boni, who figures the stock is worth 25 to 30 a share.
Before it's here, it's on the Bloomberg Terminal.
LEARN MORE