Lots Of Hope And Hardship
Bulgarians like to tell the story of a man who decided to cut off his cat's tail. The reason: to reduce the time the pet spent entering and leaving the house, thereby reducing heating bills. But the man tried to be merciful. Instead of slashing the tail in one stroke, he chopped it off an inch at a time. For eight years and seven governments after communism collapsed in Bulgaria, reforms followed the same painful incremental path. Then the new reformist government of Ivan Kostov announced that there would be no more small cuts. It would chop off the tail once and for all, with drastic and painful reforms that would encourage a free-market economy.
That was about the time I left Bulgaria, in January, 1997, the winter of my country's post-communist discontent. The economy was out of control, with inflation soaring to 600% a month. The day I left, demonstrators stormed the National Assembly and smashed luxury cars parked outside.
Some 18 months later, I returned to my small Balkan country to find that things are still hard. Money-losing plants have closed, social benefits have been taken away. But there are unmistakable signs of progress. The government announced in August it would make the Bulgarian currency, the lev (or lion), 1,000 times more valuable. That would have the psychological benefit of making prices look like what they were in the old days. Currency revamping is "a sign of financial stability," says Prime Minister Kostov, who expects consumer spending to increase when the new bills become available on July 1. Inflation will be under 6% this year, and Bulgarians with jobs no longer run to the money exchanges to cash their paychecks in dollars out of fear the lev will lose its value in a couple of days.
STREET SIGNS. On my return, I found two new McDonald's in Sofia, the capital. The streets are cleaner, with fewer potholes. Organized crime is in check. When I left, Sofia was filled with black BMWs carrying wide-necked former wrestlers. These mafia enforcers carried bats and made other convincing arguments for getting a share of merchants' profits. Now they are gone. On the other hand, the free market has brought prostitutes into the open. Once nearly invisible, they stroll boldly along Maria Louisa Boulevard in the heart of Sofia's old town. Corruption has not completely disappeared, either: A vice-premier is widely referred to as "the 10%." An old friend confides that an auditor for Bulgaria's tax service asked him for an expensive fur coat. He refused--and was fined.
Bulgarians are coping with their troubled past these days. One reason is the August death of Todor Zhivkov, Bulgaria's dictator for 35 years. "I was happy that the last symbol was gone," says Julieta Simeonova, 29, a childhood friend from my native town of Yambol. "Then memories, both bad and good, began to emerge." I know what she means. As a child, I was chosen to present Zhivkov with flowers when he came to Yambol in 1981. Later, at a summer camp, we lined up in almost unbearable heat along a road, waiting to wave as Zhivkov passed by. In 1993, as a TV reporter, I interviewed Zhivkov. That was four years after his ouster, and he was facing trial for, among other things, misappropriating state funds. I saw a sick, lonely old man and couldn't feel anger that his policies had caused many, including my parents, to waste years believing that communism would bring a better life.
The changes I saw are improving the lot of younger Bulgarians. "People's hope has returned," says Simeonova. A decade ago, she wanted to get a degree in dentistry and flee the country. Now she has two private dental offices in Yambol. She works up to 18 hours a day and hopes to open her own clinic by the time she's 32. "Better unequal in wealth than equal in poverty," she says. Adds Stamata Ivanova, 33, my distant relative from the village of Goliamo Krushevo: "We have bread to put on the table, we have clothing to put on when going out. What else could we wish?"
Bulgaria has become an island of political and economic stability in the heart of the turbulent Balkan Peninsula. "Investments in 1997 doubled, compared with the previous years," Prime Minister Kostov tells me. "Our government shows a strong will to sell [all state-owned enterprises]," adds Grozdan Karadjov, 33, once a member of our gang at Sofia University and now secretary general of Bulgarian Telecommunication Co. He says foreign investors such as AT&T and Merrill Lynch & Co. are showing interest in Bulgaria.
I returned to my high school, then and now one of Bulgaria's best mathematics schools. Students still use the 12 eight-bit computers left over from my day, and just one PC runs Windows and has Internet access. But students here rank high in national computer-science competitions. "I get up every night at 2 a.m. to browse the Web on my home computer," says one, Nikola Mihailov.
Life is harder for retirees, who make up 60% of the population. Many, like my parents, spent their lives in menial jobs assigned to them by the communists, believing that the state would take care of them in their old age. Now these people pay the price of the transition to a free-market economy through reduced pensions and benefits. My father died from a heart attack back in 1995, while standing in line for bread.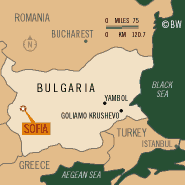 Many older Bulgarians help make ends meet by raising food in their backyards and canning it. Some shut off their heat in winter because it costs almost their entire pension. (There's no public money for street lighting, either, I discovered one evening as I made my way down pitch-dark streets, holding onto walls.) Pensioners fear thieves who steal not money and jewelry but food and tanks of heating fuel.
Having lived through the turmoil, however, older people now have hope. I met my former landlady, an elderly woman dressed in decades-old clothing. Her life has been hard. She has lost weight. But when I asked how she is, she replied with pride and faith: "I'm fine, as long as I know that my children will live better one day."
Before it's here, it's on the Bloomberg Terminal.
LEARN MORE