Healthsouth: Off The Sick List?
by
In 1998, many health-care stocks suffered acute attacks, from write-offs and losses. Six months ago, shares of Healthsouth (HRC) were flying, at 30 a share: By Oct. 7, they had tumbled to 7 11/16. In September, many big stakeholders, including Fidelity Investments, dumped a big chunk of their stakes in the No. 1 company in outpatient surgery and rehab services.
Enter the hardy, health-care investment pros, who have started buying--including David Talbot, managing director of Health/Vest Advisors. "This is the time to buy," Talbot insists. By Nov. 10, Healthsouth had risen to 12.
Back in early September, Healthsouth stock dropped when analysts cut their earnings estimates. True enough, the company conceded on Sept. 30 that earnings growth would slow--from 30% a year to about 15% to 20%--mainly because the managed-care companies were pressuring their service providers for lower rates.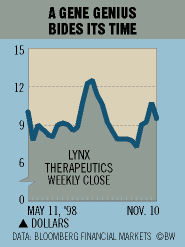 Talbot points out that Healthsouth, at its current depressed price, is a very compelling buy--based just on its projected 15%-to-20% earnings growth. Some analysts reinstated their buy ratings when third-quarter earnings came up to expectations. Talbot says that, at its price-earnings ratio of about 9, based on 1999 estimated earnings of $1.10, the stock is "definitely cheap."
Joseph Chiarelli, an analyst at J.P. Morgan Securities, who rates the stock a buy, figures that Healthsouth will generate 1999 cash flow of $1.4 billion. After funding internal growth and capital expenses, the company should have free cash flow of $100 million to $200 million, he figures.
Before it's here, it's on the Bloomberg Terminal.
LEARN MORE