As Sydney Sweats The Olympics...A Backwater Gets A Makeover
Tracey Aubin
All over Sydney, giant cranes slice the sky, helping to build more than $6.2 billion in Olympic Games construction projects in Australia's premier city. Apart from the sporting facilities, there are 30 high-rise apartment buildings, 10 office complexes, 4 luxury hotels, and 11 residential blocks going up. And with the opening ceremony less than two years away, in September, 2000, new roads and rail networks are coming on line, and domestic and international airports are getting a $478 million spruce-up.
It seems that Sydney has been waiting for the Olympic Games for all of its 210 years. The city regularly makes it onto lists of the world's most beautiful tourist destinations but never before has it had such a chance to showcase itself. Officials predict a flood of visitors--1.62 million for the Olympics and 1.49 million more attracted by the Games publicity. Other economic benefits include construction jobs--close to 100,000--thus alleviating high unemployment, one of the scourges of the Australian economy in the 1990s. Says Craig James, chief economist at Colonial State Bank: "The Olympics provided a growth engine when one was needed."
But a specter is haunting these Games: the Asian economic crisis, which caused the Aussie dollar to tumble to about 63 cents U.S. That hammered business confidence, ticket sales, and corporate sponsorships. The New South Wales state government has so far contained the budget gap by paring costs but is now facing the prospect of cutting back even further or asking taxpayers to meet any shortfall if the outlook worsens. And that may well be in the cards. Economists are questioning official growth forecasts of 3% for fiscal 1998-99 as being too optimistic as Australia increasingly feels the regional pinch.
There have been other bumps in the road. One early difficulty--the fate of an endangered amphibian known as the green and gold bellfrog, whose habitat was threatened by construction of the main stadium--was overcome by creating special havens, and there are now more frogs than when the project started. Building schedules have occasionally lagged, unions have threatened strikes, and announcements of blowouts in the Games budget--now $1.55 billion, almost $620 million more than in 1996--have become routine. Australians have taken to mocking the highly paid armies of officials charged with making the Games a success, and a weekly satirical TV show sending up Olympics bureaucrats has a prime-time slot on the national broadcasting network.
POINT TAKEN. Compounding the jitters is the pledge by conservative Prime Minister John Howard's government to introduce a 10% value-added tax. Treasurer Peter Costello wants to impose the tax ahead of the Games. "Why would we not want people who are coming to Australia to make a contribution to taxes in this country?" he asks. "When Australians go to Olympics overseas, they pay value-added taxes." Point taken, say Games organizers, but the tax could also increase the cost of the Games by $200 million. That, they say, could be enough to stop the event from winning a gold medal.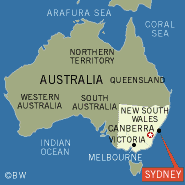 The Games have wrought an astonishing transformation on the suburb of Homebush, which was a drab industrial backwater just a few years ago. The opening ceremonies will take place in a setting once occupied by an abbatoir, a brickworks, and a line of dusty factories. Countless truckloads of rubbish have been removed, and what was left was covered by 2 million cubic meters of landfill shipped in to form part of the extensive Millennium Park outside the stadium area. The Olympic Boulevard, an avenue 60 meters wide and 1.6 kilometers long, has been cut through Homebush and is already in use. Dozens of bus tours roll through daily. Says Ivor Lopez, one of the drivers: "This area was once so awful and is now so beautiful."
Meanwhile, downtown, a giant clock has been installed on top of the imposing AMP Tower at Centrepoint, along with three 12-meter-high steel sculptures of Olympic athletes. The clock counts the days, hours, minutes, and seconds left before the opening ceremony. "Share the Spirit," it flashes in red neon, and the city has gotten the message: The Games are coming, ready or not.
Before it's here, it's on the Bloomberg Terminal.
LEARN MORE