business
This Year, It's Chic To Shop Cheap
The slowdown has even the rich flocking to discounters
By
In the fashionable suburb of Bloomfield Hills, Mich., shoppers are browsing store aisles. Wearing a tailored navy-blue suit and carrying a Chanel bag, Dorothy Bagley inspects designer tea towels. Maureen Trerice, in a black dress accented with gold jewelry, is looking for holiday gifts. Are they at Neiman Marcus? Saks Fifth Avenue? No, Kmart. "The economy is getting shaky, and people are saying: `Why pay all this money for things?"' says Trerice. "These stores have a reverse snob appeal."
That appeal is shaping up as the prevailing trend of the 1998 Christmas season. Anxiety about the economy is driving even more shoppers than usual into the nation's Big Three discounters: Wal-Mart, Kmart, and Target. As recently as last spring, all categories of retailing were racking up respectable gains. But as stock market jitters started to take their toll during the summer, shoppers shifted gears faster than they rush to a Blue Light Special. By September, sales at discount outlets open at least a year rose a healthy 7.6%, while national department-store sales dropped 3.4% for the period.
YULE SEE. More of the same is expected through the fourth quarter, setting the stage for a stark season of big winners and big losers in retail. Signs of economic slowdown are mounting, and the Conference Board, a business-research organization, reported that its October index of consumer confidence slipped for the fourth month in a row. Industry analysts project discounters will enjoy 7% to 8% sales growth this Christmas, with a 2% rise expected for department stores. "This is the beginning of an unsettled time for consumers," says Wendy Liebmann, president of WSL Strategic Retail, a New York consulting firm. "Discounters have become a very acceptable place to shop, regardless of household income."
With nearly $200 billion of holiday shopping cash up for grabs, discount merchants have a hard time restraining their glee at the prospects. "We're well on our way to a record year," crows Wal-Mart Stores Inc. Vice-Chairman Donald G. Soderquist. Even laggard Kmart, which flirted with bankruptcy just three years ago, sees a silver lining in the hovering storm clouds. "If the economy heads south and people are concerned about their spendable income," says Kmart Chairman Floyd Hall, "they will become much more price-conscious."
NO STIGMA. Of course, department stores are hardly ready to concede defeat. Federated Department Stores, parent to chains such as Macy's and Bloomingdale's, for example, has launched a facelift of its major stores. Federated Chairman James Zimmerman calls it an effort to "return the excitement" to department-store shopping. In addition to sprucing up stores, Federated will emphasize its own private-label clothing. The goal is to give consumers exclusive merchandise at lower-than-designer prices.
But the battle will be a tough one. The stigma of shopping at discounters has all but disappeared in recent years. In the past decade, national department stores have seen their share of the retail sales market plunge from 25% to 15%, while discounters have soared from 43% to 63%. And in the past five years, upper-income households have doubled their visits to discount stores, according to WSL's consumer research.
Target, the highly profitable discount chain of Dayton Hudson Corp., has done the most to draw in upscale customers. Target has attracted the rich by stocking stylish housewares and clothing and by promoting itself with humorous, ironic advertising in high-end publications such as The New York Times Magazine. To create a hip aura around the Target brand, the discounter relies on its Dayton Hudson department-store trend-watchers to stay on top of the latest fashions, such as this summer's craze for cargo pants.
Target's success has spawned imitation from rivals. Part of Kmart's nascent recovery can be attributed to its Martha Stewart line of housewares, which generated $500 million in sales last year and is expected to grow to $1 billion next year. While only 1.5% of Kmart's total sales, Hall says the line creates a "halo" over the entire store, bringing in more well-heeled shoppers. "Every day, we hear customers saying: `I don't normally shop Kmart, but I love Martha Stewart,"' he says.
Consumers certainly notice the change. Allison Kahn of New York has credit cards from a slew of department stores. But she's buying more at discount chains. "I think their stuff is getting better and the department-store stuff is getting worse," she says. That's exactly the reaction H. Lee Scott Jr., president of Wal-Mart's discount stores unit, is trying to elicit. He points to products, such as 230-thread-count sheets, that impress shoppers who usually shop at department stores. "That customer will look and think: `Wow,"' he says.
But in this fight, fancy duds and housewares are only one lure. Discounters are also using groceries to draw more crowds. These days, discount shoppers can pick up a gallon of milk at the same time they buy toys. Wal-Mart has emerged to become the nation's second-largest grocery retailer, thanks in part to its 500 supercenters, which combine food and general merchandise. Kmart is looking to join with a supermarket chain and is already offering grocery food at 5% of its stores.
ONE-STOP SHOPPING. Both chains have concluded that if shoppers come to the store several times a week to buy food, that creates opportunities to sell them gifts, clothes, and other items they might have bought at a department store. "You can save time and avoid a trip to the mall," says retail consultant Britt Beemer of America's Research Group. "That's a powerful lure for the shopper who can afford to go elsewhere but doesn't feel she has time."
But don't look for Chanel bags at the discounters. There's a limit to the stores' reach, and merchants know it. "We're not chasing demographics into the stratosphere," says Douglas A. Scovanner, senior vice-president of Target parent Dayton Hudson. To move too far upscale would push the stores' prices higher, he says. Wal-Mart's Scott points out that the chain won't have $100 sweaters--but, he says, "we can put out the best $19 sweater qualitywise."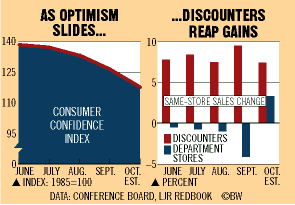 Of course, an actual recession would hurt even the sellers of low-priced goods. "If total market sales slow down, our share gains would likely be as strong, but our top-line growth might not be," says Scovanner. "We're not immune to harsh times." But a little nervousness among consumers is a good thing for discount stores. And with the economy's ill winds blowing customers their way, the Big Three discounters are set to capitalize. "If we don't go into an extraordinary recession, I'm going to do very well," says Thomas R. Jackson, who holds 17.5 million shares of Kmart stock as portfolio manager of the Prudential Equity Fund. "In a slowdown, these guys are a terrific beneficiary." And that prospect has discount store executives as excited as kids on Christmas morning.
Before it's here, it's on the Bloomberg Terminal.
LEARN MORE