South Korea: Amid The Carnage, A Glimmer Of Hope
South Korea remains mired in its deepest recession since the Korean War. However, the worst may be over, and 1999 looks hopeful. A stronger yen vs. the won makes Korean exports more competitive. Cheaper raw materials, especially oil, are cutting costs. Lower interest rates are easing the credit crunch for debt-ridden companies. And the trade accounts are firmly in surplus, boosting foreign-exchange reserves.
The road to recovery will be tough, though. Feeble demand is decimating profits. And since labor markets remain rigid, surviving companies are coping by slashing capital spending. September machinery orders dove 50.2% from a year ago, and machinery imports plunged 52.5%. And as 20,000 companies have gone belly up, joblessness has tripled this year, to 8.4% in September, hitting consumer income and confidence.
Second-quarter GDP fell 6.6% from a year ago, and third-quarter GDP will fall by even more. Although September data on industrial production and combined wholesale and retail sales looked better, the improvement was due to more working days compared with a year ago, and October data are likely to weaken again (chart).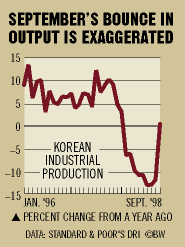 A true recovery in 1999 will depend on the pace of reforms aimed at cutting excess capacity, labor costs, and debt. The government plans to sell or merge three out of every four companies owned by 19 state-run enterprises, but reform has been slow. Nonperforming loans of banks and financial companies remain huge, and corporate debt is high, even as banks continue to lend to nonviable companies. Also labor market rigidities will be hard to break amid rising Joblessness and strikes.
For 1999, stimulative policy will offset some of the negative effects of reform. Public spending is set to provide more support, while a stable won and lower inflation will allow the Bank of Korea to cut rates. Already, three-year corporate bond yields are below 10%, down from 31% at the end of last year. The problem: Short-term stimulus could stall interest in crucial long-term reform.
Before it's here, it's on the Bloomberg Terminal.
LEARN MORE