Makers Of `Jesuit Tea' Look Abroad...But Some May Opt For Other Crops
Andrea Mandel-Campbell
Long before mate became a dietary staple of Argentine gauchos and a popular drink in several Southern Cone countries, it was cultivated by Jesuit missionaries and their Indian faithful and exported to Europe as "Jesuit tea." The venture was interrupted when the religious order was expelled by the king of Spain from the continent in 1767. Now, after a 200-year hiatus, Argentina's mate producers are again looking to market the bitter herb infusion abroad.
They've got little choice. Since the mate industry, concentrated in the provinces of Misiones and Corrientes, was deregulated in 1991, production has jumped 85%, to an estimated 300,000 metric tons this year. And as prices continue to drop, falling nearly 50% as a result of the glut, profits have been reduced to a trickle. The only way to survive is to cut costs and boost volume. Family-run yerbal (or "herb producer") La Cachuera, which produces the Amanda brand, has invested $10 million in recent years, partly on new planting techniques and fertilizers that have doubled yields to 15,000 kilograms per hectare. "We've advanced more in the last five years than in the previous 50," says Miguel Angel Sniechowski, a third-generation manager of La Cachuera, located in the town of Apostoles.
Producers also have led a successful drive to boost mate in Argentina, especially among young people. Since the 1980s, consumption of mate--which is traditionally drunk by placing dried leaves in a gourd filled with warm water and sipping through a filtered straw--has increased by 65%, to 7 kilograms per capita, more than four times Argentina's coffee intake. To compete against some 70 new mate labels, Establecimientos Las Marias, Argentina's largest producer, introduced the country's first mate vending machines and set up a network of hot water tanks for brewing mate at gas stations nationwide.
But Argentines can only drink so much mate. In a bid to expand abroad, La Cachuera has spent $1 million over the past two years on a distribution center in Brazil and a plant in Uruguay. Next year, Las Marias is building a plant in Syria, where mate drinking caught on after Syrians living in Argentina moved home to retire. Inroads are also being made into Asia, where mate is purported to increase sexual potency.
All told, exports have tripled since 1990, to $30 million, but that's still a fraction of the $450 million industry. The big challenge lies ahead: launching mate in the U.S. La Cachuera bought three new packaging machines to sell the product in sealed tea bags and is working on an instant mate.
The herb is already on the menu at some U.S. tea houses, where it is marketed as a natural energizer to replace coffee. Besides being an antioxidant and mild diuretic, mate contains mateine, the equivalent of caffeine, but with fewer side effects, according to several studies. "Sales to the U.S. are booming. They should hit 130,000 kilograms this year, up from 50,000 in '97," says Paul Navajas, director of international trade for Las Marias. Look out, espresso.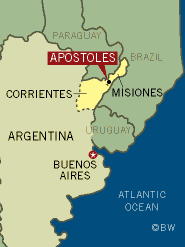 But the medicinal mixture known as the "splendid herb" by the Guarani Indians of Paraguay and southern Brazil has left many ailing economically. The drastic drop in prices has made cultivating mate no longer viable for some 15,000 farmers in Misiones province with 10 hectares of land or less. "Before, you could live decently with 10 hectares," says farmer Hector Silva, 42, who lives in San Jose. "Now you can have 200 hectares, and it's still not enough." And it's only going to get worse. According to a recent study funded by the Misiones government, the province is facing a 15% surplus in production by 2007 that neither an increase in consumption nor export growth is likely to cover.
The province has 100,000 hectares of unproductive mate plantations that could be converted to more profitable crops. Plantation pine trees grow faster in the red, iron-rich soil than anywhere else in the world, while the tropical climate is ideal for horticulture. But where will subsistence farmers get the financing? "Efforts are being made, but they're just not enough," says Osvaldo Sforza, Misiones' agriculture minister. So mate producers big and small are looking at a ripe opportunity. The question is whether they can pluck it.