business
Highbrows And Low Rollers
Byline: EDITED BY SANDRA DALLAS; BUSINESS WEEK correspondent Andy Reinhardt, who attended Comdex for 10 years straight, has a respite this year.
It's October in Las Vegas, and people ought to be happy. Temperatures have dropped back into the comfortable mid-80s. The swank, new Bellagio hotel has just opened, and the town's casinos are crowded despite global economic uncertainty. In just a few weeks, nearly a quarter of a million people will descend on this desert playground for the largest annual convention in the U.S. But for the casinos, it will be no jackpot.
Already, the town is dreading gridlocked streets, jammed phone lines, and frayed nerves. When the Comdex computer trade show opens its doors on Nov. 17, Las Vegas will suffer the civic equivalent of a computer crash.
Just saying the name Comdex prompts nasty reactions from the locals. Small shopkeepers say the convention--now in its 20th year--dampens their business. Cabbies hate it because they spend a week sitting in giant traffic jams. And casinos concede what Las Vegans regard as the worst affront of all: Comdex-goers aren't big gamblers. Says Melodee Terry, a checkout clerk in the 7-Eleven store near the convention center: "Everybody hates Comdex."
Or at least that's what they say. In truth, for all its agonies, Comdex is a huge boost to the Vegas economy. Hotels jack up rates to compensate for lower gambling revenues. At the MGM Grand Hotel--with 5,005 rooms, the largest in the U.S.--suites that go for as little as $79 in the off-season command $350 a night during the week-long show. Add to that 225,000 conventioneers buying meals, riding cabs, and visiting hotel gift shops, and this year's Comdex will pump $341 million in nongambling revenue into the economy, estimates the Las Vegas Convention & Visitor Authority. By contrast, the same number of regular tourists would kick in just $125 million.
COLD COMFORT. That's cold comfort to the sales clerks at Keever's Souvenirs, located in a low-slung mall on the Las Vegas Strip. Although they won't give their names, three women rail against what one called the "computer robots in black suits." The common complaint: Convention-goers don't shop enough. "They do business all day and then have pizza for dinner and go to girlie shows," says one. Worse, "Even when they buy Certs or gum they ask for a receipt," snorts another.
Souvenir hunting isn't alone in taking a pasting during Comdex. The grandiose stage shows at the big hotels go dark for the week, idling hundreds of singers and dancers. And at the Candlelight Wedding Chapel on the Strip, business drops from 25 to 5 ceremonies a day during Comdex--"if we're lucky," says chapel director Lynn Galindo. "Comdex people don't get married here."
At heart, what rubs locals the wrong way about Comdex is a culture clash. Las Vegas prefers its visitors to be high-rollers--not harried businesspeople. After all, this is a place unabashedly focused on the almighty dollar. Whether relocated here in search of lower taxes, plentiful jobs, or ready access to gaming tables, Las Vegans are among the most money-centered people on earth. "Comdex is the only convention where people arrive with $20 in their pockets and leave with $20," snips James (who wouldn't give his last name), a salesman at Saks Fifth Avenue. Even the giant Forum Shops at Caesars--the most lucrative shopping mall in the country--feels a downturn, says marketing director Maureen Crampton.
COMPLAINING CABBIES. "Comdex people are incredibly cheap," proclaims 7-Eleven clerk Terry. "They don't tip." She should know, having worked a half-dozen bartending and waitressing jobs. A co-worker reminds her she's not supposed to talk to reporters. But Terry brushes her off. "These people need to learn: This is Vegas," she says. "They need to tip because it's our way of life."
Cab drivers feel the same way. The Nevada Taxicab Authority activates 130 additional medallions during the show, bringing its total pool of taxis to more than 1,300. But even with conventioneers queuing up in hourlong lines, "cabbies complain continually that they can't make as much money because of the traffic," says Robert Anselmo, administrator of the Nevada Taxicab Authority. Cabbies also say they get lousy tips. "Comdex people aren't known as free spenders," says cab driver Emmanuel Solomon.
The biggest impact is felt at the casinos. Over the past three years, November has averaged dead last in monthly gambling revenues, at $341 million, according to the Nevada Gaming Control Board. (It's a coincidence that the amount equals Comdex' estimated nongambling economic impact.) You can't blame the holidays: During the same three-year period, December has ranked No. 1, with nearly 20% higher revenues. Don Welsh, a senior vice-president at the MGM Grand, handles the topic diplomatically. "They're not great gamblers," he says of Comdex attendees. "But they make up for it in other ways."
Indeed, many businesses do enjoy a surge during Comdex. Restaurants are booked solid. Rental-car companies do land-office business: Alamo brings in cars from eight states to meet demand. The video-game and virtual-reality arcade at the Luxor hotel is jammed every night with nerds stoked on hot dogs and Cokes. And for visitors seeking earthier escapes, prostitutes flock to town, even flying in from other cities.
Companies that specialize in convention services do especially well. Baskow & Associates, a local special-events and talent agency, has ridden the Comdex gravy train for 10 years. Owner Jaki Baskow has set up meetings and mounted booth shows for such giants as Lucent Technologies, Digital Equipment, and Texas Instruments. And she typically supplies up to 90 models--known in trade-show vernacular as "booth bunnies"--to Comdex exhibitors, who pay up to $350 a day for top models.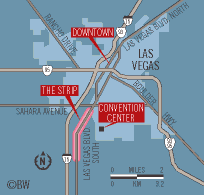 At Manpower Inc., the temporary agency, Comdex business is also brisk. District Manager Marcia Werber says Manpower supplies about 200 workers--many of them retirees who welcome the extra income--to work the registration tent. They join a crew of 1,000 drawn from temp agencies around the city. "Some people even take vacation days from their regular jobs to work at Comdex," Werber says. In total, estimates ZD Events Inc., the Ziff-Davis Inc. subsidiary that puts on Comdex, about 10,000 locals work at the show, earning $5 million in wages. An additional 60,000 are employed indirectly.
It's that crush that sours many Las Vegans on Comdex--even as they clamor to profit from it. At the AM-PM Minimart across the street from the convention center, the checkout clerks are bracing for the onslaught. "You don't stop working from the minute you get in until the minute you leave," says Lisa, one of the clerks scheduled to work throughout the show. With a hint of despair in her voice, she concludes simply: "It's insane." Then, recovering her Las Vegas spirit, she adds: "But business is awesome."
Before it's here, it's on the Bloomberg Terminal.
LEARN MORE