Wrong Numbers For Telecom Upstarts
They're short on capital as junk bonds dry up
by
In early October, Richard P. Anthony, chief executive of Advanced Communications Group Inc., set out on a week-long fund-raising trip in New York. While he felt he made some progress in his effort to raise capital during visits to Wall Street bankers, he headed back to St. Louis still in need of $100 million to expand his company's telecommunications network.
Until recently, raising that kind of money for an upstart phone company like Advanced Communications came easily. Since the Telecommunications Act of 1996 cracked open the door to competition in local telephone markets, all that was needed by a company setting out to provide "competitive access"--an alternative to the local Baby Bell monopoly--was a reputable management team and a credible business plan. That unleashed a flood of money: Since the beginning of 1997, Wall Street has raised $15.3 billion through more than 100 equity and bond offerings to fund such new phone upstarts, according to Bear Stearns estimates.
All that was before the economic turmoil in Asia and other emerging markets prompted a "flight to quality" by investors. That phenomenon has all but shut down issuance of the high-yield junk bonds that have been a favorite investment vehicle for such companies since the days when MCI was a pup.
"BUYERS' STRIKE" Now, the drought is wreaking havoc on business plans of emerging telecom companies. Iowa-based discount long-distance competitor Telegroup Inc. says it will lay off 15,000 workers in October and will delay network expansion until it can raise $60 million. The last high-yield bond issue from a telecommunications company was in July when COLT Telecom Group PLC of London raised nearly $1 billion. "During the past two months, it's almost as if there's been a buyers' strike," says Jude Driscoll, vice-president of high-yield bond trading at Canseco Capital Management.
These risk-averse market conditions have smaller telecom companies scrambling for alternative financing. Advanced Communications has resorted to knocking on bank doors or pitching private investors who are demanding a lot more for their money, including bigger equity stakes in a company and unusally high rates of return on their investments, according to Paul Salem, managing director at Providence Equity Partners, a private telco investor. "We have expensive capital," he says. "That's no secret." Meanwhile, banks tend to shy away entirely from such a risky and capital-intensive investment.
Because of the crunch, Advanced Communications--which has seen its stock plummet from $14 to about $4 since its IPO in February--is slashing its capital expenditures in half next year and reducing new service offerings. And even companies with plenty of cash on hand are taking precautions. Focal Communications Corp. of Chicago, with about $125 million in cash, says it still is considering whether to seek finance plans from equipment vendors, such as Lucent Technologies Inc. or Nortel, which make the expensive switches that direct calls through a network. Like venture capitalists, however, vendors are charging high rates, says Focal's chief financial officer, Joseph A. Beatty.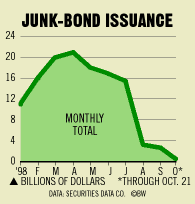 GST Telecommunications Inc. in Vancouver, Wash., has stashed away $500 million in cash from previous rounds of financing--enough to last through 1999. Still, it's weighing whether to sell off parts of the company that don't snugly fit its business model--to raise money and lower funding needs. Its model is primarily to serve business customers, so it may scale back sharply on plans for residential service. It might also sell a long-distance subsidiary in Guam, suggests CEO Joseph A. Basile Jr. "We want to minimize [our capital] burn rate, and become more attractive in our ability to raise capital," he says.
Yet some analysts say they're beginning to see signs that the high-yield market is opening up again. But until the outlook for the rest of the financial system improves, it is unlikely financing will approach 1997's record levels. That could mean some startups won't survive or will wind up merging--if they lose out in the competition for access to capital.
Before it's here, it's on the Bloomberg Terminal.
LEARN MORE