Thanks For The Rate Cut, But...
The stock market needs better earnings to keep the bears at bay
Jeffrey M. Laderman
Even in a stock market that has wowed investors for years, the October surprise was a stunner: In just five trading sessions between Oct. 15 and 21, a lightning-like Dow Jones industrial average soared 550 points, to 8519, a 6.9% gain. Both the Dow and the Standard & Poor's 500-stock index have now regained half of what they lost from July 17 to Aug. 31. Buoyed by rapidly rising prices, investors are becoming cautiously optimistic that the vicious bear that roughed them up in August and September has gone into hibernation. "We've seen the lows," declares market analyst Laszlo M. Birinyi of Birinyi Associates Inc. "It gets even better from here."
Are the old highs just around the corner? Not likely. The market got an enormous psychological boost from the Federal Reserve on Oct. 15, when the central bank cut both the federal funds and discount rates by a quarter-point each--without waiting for the next Fed governors' meeting. And the Fed may cut more. But what would really give a market rebound new oomph is a combination of falling interest rates with rising corporate profits.
We've got falling rates, but profit growth is nowhere in sight. "When I heard of the cut, my view changed instantly from moderately negative to moderately positive," says Trent May, who runs the Invesco Growth and Invesco Growth & Income funds. "But you have to be nervous about earnings and quality of earnings. And all the crises haven't passed because the Fed cut rates."
At first blush, by some measures, stocks appear undervalued, even after the mighty rally. Edward E. Yardeni, chief economist for Deutsche Bank Securities, says stocks still have a ways to go if you compare the price-earnings ratios of the S&P 500 with the new yields on 10-year Treasury bonds, which have fallen a full percentage point in the past 10 weeks. Moreover, says Yardeni, this is apparently the way Fed Chairman Alan Greenspan looks at stocks--at least it was so reported in the Fed's Monetary Policy Report to Congress last year. By that reckoning, says Yardeni, stocks are about 9% undervalued.
But that calculation is based on a forecast of earnings for the S&P 500 over the next 12 months approaching $52 a share--a figure that many, including Yardeni, think is too high. The figure is a composite of analysts' forecasts for the individual companies in the S&P 500. And "analysts have been cutting earnings estimates for the rest of 1998, but they've barely touched 1999," says Charles L. Hill, research director for First Call Corp. "Those forecasts have to come down." If they shrink enough, it could change the stock valuation picture in a snap.
TIPTOEING. More rate cuts by the Fed won't solve the earnings problem--except perhaps in rate-sensitive industries such as banking. Indeed, if the Fed continues to make cut after cut, says Richard Bernstein, director of quantitative research at Merrill Lynch & Co., it will be because of "lengthening and deepening of the profits recession."
Earnings are by no means the only problem facing the stock market. The market can't build a head of steam if the capital markets are plagued by illiquidity. Trading has virtually stopped in a wide range of markets, from mortgage-backed securities to junk bonds to emerging-market debt. While the Japanese have finally passed a banking-reform program, there's no guarantee that it will work. And while Congress has O.K.'d additional funding for the International Monetary Fund, that's only one--perhaps ineffectual--step toward ending the emerging-markets crisis.
Still, the sharp rally should help to restore investor confidence. Mutual-fund investors tiptoed back into funds in September after heavy redemptions in August, but they were timid. And in the first two weeks of October, they pulled about $4.8 billion out of domestic equity funds, says Robert Adler of AMG Data Services. But mutual-fund flows tend to follow market performance, so the snapback should draw more money back in and help offset some of the inevitable yearend tax-related selling.
Even troubled hedge-fund investors are more likely to hang in, given the rebound. George P. Van, whose Van Hedge Fund Advisors tracks these private partnerships, says managers are gearing up for large redemptions. Van says investors could pull at least 10% of their money out--roughly $16 billion in equity--at their next redemption window, typically at the end of the quarter. But "if the market is at today's level at the end of the year, redemptions will be a nonissue," says Robert I. Schulman, president of Tremont Advisers Inc., a hedge-fund consultant.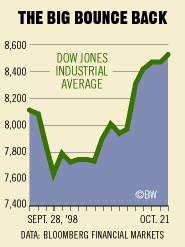 Even if the market hangs around the mid-8000's, volatility will likely remain high. One measure of that condition is the OEX Volatility Index compiled by the Chicago Board Options Exchange. While the current figure, 31.7, is down sharply from nearly 50 at the end of August, it's still almost 50% higher than it was in the first half of 1998.
With the Fed firmly on the side of easing, and with rates coming down abroad, it's unlikely that the stock market will give up much of its recent gain. But until investors see some new spunk in earnings on the horizon, they're not about to take the market back to its old highs and beyond.
Before it's here, it's on the Bloomberg Terminal.
LEARN MORE