Romancing The Rugrats Crowd
Viacom is fighting hard to hold on to its lead in youth TV
by
When it comes to reeling in young TV watchers, it has been hard to beat Viacom Inc. Need to reach grade schoolers with your ads? Try the Nickelodeon cable channel, which has a near-stranglehold on the 2- to 11-year-old viewer. High school and college age? Go to MTV. Gen-X through boomers? VH1.
Trouble is, these days Viacom has plenty of company chasing those markets. Sports channel ESPN has been airing everything from spelling bees to snowboarding competitions. Time Warner Inc. is lacing teen hits Dawson's Creek and Felicity on its WB Television Network with full-length songs by acts like Hootie & the Blowfish and Savage Garden. At the lucrative children's end of the market, a crop of competitors, including Ted Turner's Cartoon Network and a revitalized Disney Channel, has been luring viewers away from Nick, Viacom's most-watched channel. "It's always a great thing to be the first in a market," says Anne M. Sweeney, president of Disney/ABC Cable Networks and a former Nickelodeon executive. "What is more difficult is staying there."
To do just that, Viacom has been mounting an aggressive counter-offensive. Since 1994, when the alarm bells were sounded during a strategic review, Viacom has spent more than $500 million--serious money in the rerun world of cable TV--to fight off its suddenly robust competition. And the music channels are staging a comeback. The average number of people watching MTV was up 15% in the 12 months ending in September, reversing two straight years of decline. And the much smaller VH1 saw its audience grow by more than twice that rate. Things aren't nearly as cheery at Nick, however. After almost doubling its viewing audience between 1993 and 1997, viewership is slipping, as more kids click away to the Cartoon Network, Fox Family Channel, or broadcast networks' kiddie fare (chart, page 91).
CASH OUTFLOW. In this crowded cable world, Wall Street is looking anxiously at the amounts Viacom needs to spend on new programming for its channels to stand out. In mid-September, two prominent analysts, citing added spending on cable and Viacom's Blockbuster Entertainment unit, cut their earnings estimate for the company. NationsBanc Montgomery Securities Inc. analyst John Tinker expects cash flow from the cable-channel unit to grow by 17% for the year, down from a 20% rise last year, and to slow to 13% growth next year.
Reversing that trend is critical to Viacom. MTV Networks this year will contribute 13% of the company's anticipated $14.3 billion in revenue but 30% of its operating cash flow of $2.5 billion. Moreover, notes Tinker, the cable unit and its 41% profit margins will represent even more of the company's fortunes as it completes the $4.6 billion sale of its educational publishing unit to Pearson PLC and the planned spin-off of Blockbuster to the public. "They keep asking me to spend money," Viacom Chairman Sumner M. Redstone says of his MTV Networks programmers. "I hate doing it, but look at the results they're getting."
Central to that spending strategy is more original programming, particularly in the children's field. Nickelodeon spent $350 million to build a 72,000-square-foot animation studio in Burbank, Calif., doubled the channel's animation staff, and will churn out up to 10 new shows this year to back up Nick hits such as Blue's Clues and Rugrats. In October, Nickelodeon also launched a $22 million ad blitz, including an estimated $10 million, one-month run of network spots on big draws like ER and The Today Show.
RATES CUT. The channel is also tapping studio expertise at Viacom's Paramount Pictures unit to bring The Rugrats Movie to theaters on Nov. 20. "Nickelodeon is clearly feeling the pressure, but they're reacting appropriately," says Jon Mandel, co-managing director at MediaCom, the media-buying arm of Grey Advertising Inc. One tactic: In an effort to stop defections among its advertisers, media buyers say Nickelodeon has offered to trim pre-arranged 1999 rate hikes in exchange for extending contracts with advertisers. Meanwhile, the programming overhaul seems to be working. Boosted by new shows such as The Wild Thornberrys, ratings of Nickelodeon's 8 p.m. to 9 p.m. "Nickel-O-Zone" block is up 11% since September. "Even with all the competition out there, we're still getting more than 57% of the ad market," says Tom Freston, chairman of MTV Networks.
Viacom knows well the power of programming. Moribund VH1 was overhauled in 1995 by adding such new fare as documentary-style profiles of rock stars called Behind the Music and Pop-Up Video, which features irreverent captions in cartoonish balloons superimposed on music videos. A ratings revival at MTV began last year, after Viacom execs realized the channel had strayed too far from its music roots with a schedule heavy on game shows and dramas. The key to MTV's turnaround was the hiring last year of Brian Gradden, a 35-year-old former Fox programming exec who helped discover the irreverent cartoon South Park for Comedy Central (jointly owned by Viacom and Time Warner). Gradden has refocused the channel on music with new shows like Artist Cut, where an artist describes the making of a song or video.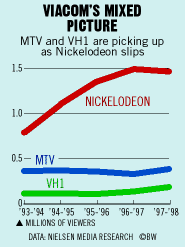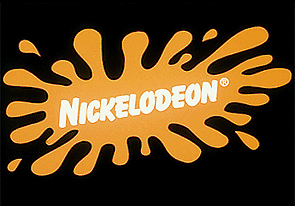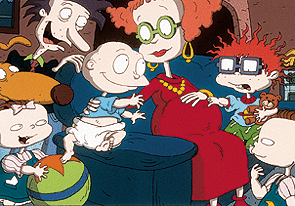 And the channels continue to go beyond straight video as they look for ways to attract viewers. For the first time, both MTV and VH1 intend to fashion their own made-for-television movies, including biographical features on former Beatles John Lennon and Paul McCartney and Latina singer Gloria Estefan. As long as such new fare can keep viewers tuning in at home, Viacom can also seek growth abroad--MTV is already in 85 countries and Nickelodeon in more than 100. "These are brands our company intends to nurture," says Redstone. That means spending more money, of course. Because in the TV business, staying young doesn't come cheap or easy.
Before it's here, it's on the Bloomberg Terminal.
LEARN MORE