business
Junk Debt Is Looking Like Plain Old Junk
Suddenly, European investors are wary--and LBOs take the hit
Stanley Reed
A few months ago, Europe looked like a leveraged-buyout paradise. With conglomerates trying to streamline by selling off unprofitable divisions, European and American buyout firms put together funds totaling $20 billion or more to target Europe. But all of a sudden, that money is sitting idle. Investors around the world have taken a dislike to high-yield bonds--the leverage that helps increase the returns of leveraged buyouts. Without access to junk debt, financiers say many LBO deals no longer make financial sense.
Just ask Charterhouse Development Capital Ltd., the British buyout firm. Back in early summer, it might not have had any problem borrowing as much as 80% of its purchase of Tussauds Group Ltd., the operator of wax museums and amusement parks, from the British media giant Pearson PLC. But by the time it actually did its takeover on Oct. 19, Charterhouse had to put up half the $598 million purchase price in cash while obtaining the rest through a loan from Bankers Trust Corp. Malcolm Offord, a Charterhouse director, says the firm still plans to refinance the Tussauds deal through a securitization of cash flows or a junk-bond offer. But that will take some time.
Just as in the U.S., Corporate Europe is feeling a credit squeeze. The spreads between what lower-rated companies have to pay compared with blue chips have widened sharply (chart). But more important, the fledgling European junk-bond market is now closed to many issuers. That is strangling the LBO business. European banks and pension funds were only beginning to develop an appetite for the high-yield bonds often used in LBOs. But with investors wary, buyouts going ahead are mostly smaller and more conservatively structured.
A seismic shift expected in Europe's credit markets also seems to have ground to a halt. In Europe, major companies obtain roughly 80% of their financing from bank loans, leaving only a small share for the securities markets, says Rick Deutsch, credit analyst at Merrill Lynch & Co. in London. With the launch of the single currency next year, that ratio is expected to gradually reverse. But the capital-market squeeze is sending European companies to the banks they were threatening to leave. To woo their best customers back, Continental institutions such as Deutsche Bank and Compagnie Financiere de Paribas are giving some borrowers generous terms, according to bankers in London. For instance, Deutsche Bank is working on obtaining a loan worth $1.2 billion for Continental, the German tiremaker. At the outset, Conti will pay 32.5 basis points over the London Interbank Offered Rate, the Eurobond market's overnight lending rate. But over the loan's five-year life, the spread could fall as low as 22.5 basis points, less than what Conti is paying Deutsche and J.P. Morgan & Co. on a loan the new one will partially replace.
NO DEAL. The faltering junk-bond market has already killed a deal or two. A bellwether buyout bit the dust in mid-October when German chemicals giant Hoechst called off the $1.8 billion sale of its paint division, Herberts, to Kohlberg Kravis Roberts & Co. WitH stock prices falling and financing conditions worsening, KKR tried to negotiate the price down. But Hoechst said no.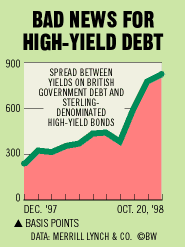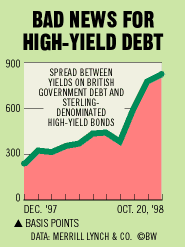 Other businesses that could be hurt by a prolonged junk squeeze include many fast-expanding telecommunications and media firms. Colt Telecommunications Group and Orange PLC in Britain have used junk debt to fuel growth. Each says it has enough cash on hand to fund current growth plans, but even the biggest companies have been affected. Pearson itself was considering raising as much as $1.5 billion to help finance its pending $4.6 billion acquisition of publisher Simon & ScHuster's education division. Pearson has a $6 billion bank credit line to fall back on. But, says Finance Director John Makinson, "it doesn't look like a very good time to be tapping the bond markets."
It's hard to say how long the credit market will stagnate. Optimists say once prices stabilize, the deal flow will pick up. That prices have been slashed by 20% to 30% makes purchases more attractive. Indeed, Offord of Charterhouse thinks Tussauds may start the deal machine again. But right now, other bankers are looking at leveraged-buyout paradise lost.
Before it's here, it's on the Bloomberg Terminal.
LEARN MORE