Fanning The Spark Lit By A Rebel
There's a patch of plywood where the special forces police bashed in the front door and took the man away. And one on the front window, too, where they smashed it. Scars, you might say, if a house could bear scars.
Inside, people laugh, trying to forget. They are his sisters, daughters, sons, and cousins, telling each other that things are going to turn out O.K. They are caught in the tension of wanting to think about him but wanting to forget that he is in jail, in solitary confinement somewhere. Not allowed to leave his cell. Recovering from bruises after police beat him that night he was arrested. His daughter, eyes lowered and a Koran in her lap, prays and wonders if she will ever see him again.
It was a shocking scene that night, Sept. 20, and one that will likely change the course of Malaysia's history. There he was, Anwar Ibrahim, the No.2 man in the country and once heir apparent to Prime Minister Mahathir Mohamad. He had been fired from his posts as Deputy Premier and Finance Minister just three weeks before, in a power struggle with his boss and a fight over economic policy. Since then, he had brought tens of thousands of demonstrators into the streets, shouting "Reformasi!" Reform: The idea did not rest easily with the man who now holds the title of Asia's longest-serving leader. Mahathir was still in charge. He was about to teach Anwar a lesson.
Once the order was given, it took only minutes for the black-hooded elite commando units to storm Anwar's modest white stucco home, located in an upscale suburb just outside the clatter of Kuala Lumpur. A police helicopter buzzed overhead. His wife, Azizah Ismail, clung to him as police burst through the door. His personal security guards tried to stop them. "Look, let's not fight. We are all Malay people, from the same country," pleaded one as he gripped Anwar's hand and placed himself to take the blows. No, no fighting, the police said. They had assault rifles. The guards had only training in silat, a 15th century martial art.
So here they were, the family, assembled, a few weeks after that terrible night. They had just returned from a sweltering, wood-paneled room at the High Court, where Anwar had appeared on 10 counts of corruption and sodomy--charges Anwar says were concocted to discredit him. He was denied bail by a judge who set the trial for Nov. 2. If found guilty, Anwar could be sentenced to 34 years in prison.
BRUISES. It was Azizah who ached the most. She had tried to reach through a phalanx of plainclothes policemen to stroke her husband's bruised face as he sat in the criminal's pen in the middle of the courtroom. They blocked her, knocking her hand away. He tried to whisper to her. They wouldn't let him.
As his wife, she worries that Anwar is losing weight in prison. As the now de facto leader of the Reformasi movement, she worries about the future of her country. Malaysia, since gaining independence from Britain in 1957, has developed beyond colonialism and poverty by adhering to democratic ideals. But like many Malaysians, Azizah now questions the edicts of a man who has held power for 17 years and appears increasingly to be steering the country away from that path.
Mahathir, in firing Anwar as Finance Minister, imposed his own economic formula for Malaysia's economy, which involves bucking the ideas of the International Monetary Fund and imposing currency controls that isolate Malaysia from the damaging fluctuations of international capital markets. Opponents of isolationism are silenced. Anyone in the government who dares dissent is fired, kicked out of the ruling party, or both. "This is not justice, and this is not democratic," Azizah says, alternately wringing her hands and tucking her hair into her Islamic head scarf. "Malaysians of all races and walks of life are united on this, that they have to do something to bring about reform."
If they are looking to Azizah to lead them, she accepts the challenge. "What I have been through has suddenly brought an inner strength that I knew was there all along," she says. Her inspiration, she adds, is her husband's belief that the economic system Mahathir built--where government interests are served by direct, cash-backed promotion of the public sector--is no longer sustainable. Anwar, while working within the government structure, had been advocating change. "We are not talking about revolution," says Azizah. "We want to work within the system. We are just trying to remove the oppression and abuse of power."
CONSPIRACY? Among those who have benefited from Mahathir's model and can afford to drive fancy cars, there's a firm desire to maintain the status quo. These people have tasted wealth, and they like it. They believe Mahathir when he tells them that there is a Jewish conspiracy to undermine their Muslim-majority nation, that racists in the West are dying to see Malaysia go down the drain, that Malaysia is a victim of everyone from George Soros to biased Western news reporting. He tells them they must preserve stability at all costs. "He gives these long speeches in which he's very soothing, not very emotional, and says outrageous things in a very calm way, and people really listen," says a diplomat who has watched him over the years. "They go away thinking, `Wow, I've really learned what's going on here."'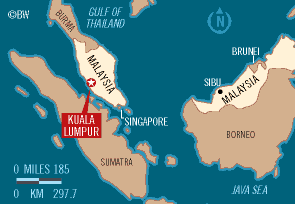 But not everyone is fooled. Most people have never benefited from a government contract, and among them there is a smoldering belief that change is coming and that Anwar, perhaps, is right. The shopkeepers, taxi drivers, cashiers, waiters, and clerks of Kuala Lumpur all smile and nod in agreement to the word "reformasi." Yes, they say, reform. Malaysia needs to change.
Azizah doesn't intend to let this opportunity slip away. "We are trying our level best to fan the spark that has been lit now," she says. And no matter what happens to her husband or how effective the police may be, the glow will continue.
Before it's here, it's on the Bloomberg Terminal.
LEARN MORE