Can Valeo's Driver Keep Up His Winning Streak?
Now, Goutard must revamp a newly acquired ITT unit
Gail Edmondson
In corporate suites from New York to Hong Kong, chief executives view 1999 with foreboding. Between banking collapse in Japan, depression in Asia, recession in Latin America, and a U.S. slowdown, they find few bright spots. But Noel Goutard, chief executive of $7.4 billion French auto supplier Valeo, sees opportunities where others see danger. "You can transform a company faster in recession than when the market is booming," he says.
Goutard's recent $1.7 billion takeover of ITT Industries Co.'s automotive unit will give him achance to prove it. His new acquisition needs a total efficiency overhaul. Meanwhile, he must keep slashing costs at Valeo as global growth stagnates in 1999. So Goutard has a three-pronged plan. He will retool production, juice up growth with high-tech innovations, and offset the risks of a strong single European currency by investing more outside the euro zone. Valeo will keep moving low-tech operations out of Western Europe and the U.S. to lower-cost Mexico and Central Europe.
In October, Goutard introduced a program to speed up the restructuring of Valeo's and ITT's plants around the World--especially the 71 plants in the euro zone, where Goutard has made more than a dozen acquisitions or joint ventures over the past two years. The goal is to boost capacity utilization to 95%, improve return on assets by 10%, and reduce fixed assets by $277 million over the next 18 months. Division managers will have to rethink production and submit proposals before they turn in their 1999 budgets. "That will help us get through the crisis," says Thierry Morin, senior vice-president and chief financial officer.
Meanwhile, Valeo will continue using technology to stay ahead of the competition. Heavy investment in research and development allowed the company to cut the cost of its air-conditioning systems by 66% over the past 10 years. Its latest innovation: rain sensors that flip on the windshield wipers if they detect moisture and adjust to the proper speed automatically. The invention creates a new market niche with higher margins.
VISIONARY. Goutard is counting on more such innovations. Engineers now represent 15% of Valeo's total workforce, up from 5% a decade ago. And Valeo ranks among the leading companies for patent applications in Europe, with 550 filed in 1997. Goutard was also an early adopter of advanced computer-aided design systems to link virtual design teams with suppliers, a move that helped Valeo pioneer big cost savings at Chrysler Corp. "[Goutard] was among the first to understand the strategic aspect of virtual design," says Bernard Charles, CEO of Dassault Systems.
The ITT acquisition, too, reflects long-term strategy. It will boost Valeo's North American sales to $2.8 billion in 1999 and clinch its position as No.6 worldwide, behind Germany's Robert Bosch. It will also help spur Valeo's growth even as markets slow next year, thanks to ITT's strong position in electrical motors, which are used to drive everything from sunroofs to remote door locks. Analysts forecast that the number of motors used in cars will double over the next five years. More important, the acquisition allows Valeo to build more complete modules, such as door systems, cockpits, and energy-management systems. That caters to auto makers' increasing demand for whole subsystems, which make assembly faster and cheaper.
The 67-year-old, Casablanca-born Goutard has developed a knack for making the most of difficult situations. Since he took the reins of ailing, Paris-based Valeo in 1987, he has nearly quadrupled sales and transformed a loss-making regional player into a global champion. Valeo now boasts above-average operating margins exceeding 7%--a challenge in a cutthroat industry where purchasing managers at such giants as Volkswagen and General Motors Corp. continually pressure their suppliers to come in with ever lower prices. "Goutard has the right vision," says Otto Jetter, executive director for worldwide electrical parts purchasing at GM. "He sees where the competition is weak, and he moves."
RIVAL PUSH. But to meet his goals of 10%-plus growth and rising margins, Goutard will have to get even more creative. Big competitors, including GM subsidiary Delphi, Ford's Visteon, and Denso in Japan, are accelerating their drives to grab market share in Europe following the Daimler-Chrysler merger. General Motors has announced plans to spin off its in-house supplier Delphi next year, and market experts believe Ford will do the same with Visteon. "Delphi will go after Valeo's traditional customer base," predicts Marc Santucci, president of consultant ELM International, based in East Lansing, Mich.
An early career on Wall Street as a commodities trader, followed by international stints with U.S. companies, fostered an eclectic management philosophy in Goutard. He became obsessed with speed, innovation, and customer service. But he also makes use of European practices, including a more collaborative relationship with labor. He invests in clean, well-run plants and motivates his 50,000 employees through a steady dialogue with management.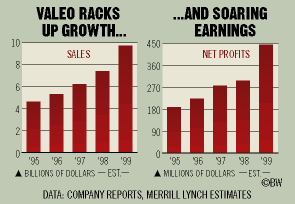 He'll need all of his people skills to fix the ITT unit. That will involve several plant closings, a reorganization, and streamlining at its bloated corporate headquarters. ITT underinvested in plants and R&D, and its margins trail those of Valeo. Already, Goutard has reassigned 1,400 headquarters administrators to operating units and set about flattening what he calls an "incredible management pyramid."
Goutard lives simply, driving an Audi 6 that he has been told is too small for a French chief executive. But even such modesty is strategic, analysts say. Flashing his wealth might encourage executives at GM and Chrysler to ask him for bigger discounts, figuring Valeo can afford them. And having taken the company this far, Goutard is not about to give anything away.
Before it's here, it's on the Bloomberg Terminal.
LEARN MORE